We earn a commission for products purchased through some links in this article.
There's a new Channel 4 drama [available on catch up] which we think you're going to be interested in. Not only you, but your kids too.
This isn't simply your standard, bordering on patronising, educational programme with oh-so-cringe representations of teen life, which your kids won't give a hoot about.
Cyberbully promises to actually engage your kids for two reasons. The main one is this young lady.
Meet 17-year-old Maisie Williams, best known for her role as Arya Stark in the medieval-style TV series Game of Thrones. We reckon she's someone your kids might actually listen to. Not only is she young (like them), social media savvy (like them), but she's refreshingly normal for someone who's starred in one of the most popular TV shows in the last decade.
But reason two: she's a real-life victim of cyberbullying on a daily basis.
Despite wanting nothing more than to 'fit in', her role in Game of Thrones threw her into the spotlight at the tender age of 12, and made her the target of a lot of attention within her school.
Speaking to The Express, she said: 'It was the worst year of my life, I had such an awful experience with it. I knew who the girl was who was sending anonymous things: 'You're weird because you're not at school. You're a stuck-up bitch because you talk about it [Game of Thrones] too much. No one likes you, we all just pretend to like you because you're rich and famous.'
'You get it every single day'
Even now, while hugely popular in her own right amoung young people on social media (take a look – she's one of the most refreshingly honest and normal teen celebrities we may have ever come across), she still gets hurtful comments, even with a fandom that goes into the hundreds of thousands. She said:
'You get it every single day. Sometimes you can tell it's just people that are very excited, and sometimes it's people that genuinely want to say something nasty.
'As much as you can say these people just do this for kicks, it does hurt.'
Drama Cyberbully isn't based on a true story, but instead woven around a series of real-life cases that happened in America, stitched together to form a plot. The subject matter is current, very topical, and a huge concern for parents of kids growing up in today's online environment.
The story, which sees Maisie playing the role of Casey, a teenager battling with an annoymous cyberbully, is focused on her throughout; Casey, her computer, and her bedroom are the scene for the entire hour. The plot sees Casey become the target of an annoymous bully threatening to post compromising pictures of her online unless she agrees to their every command.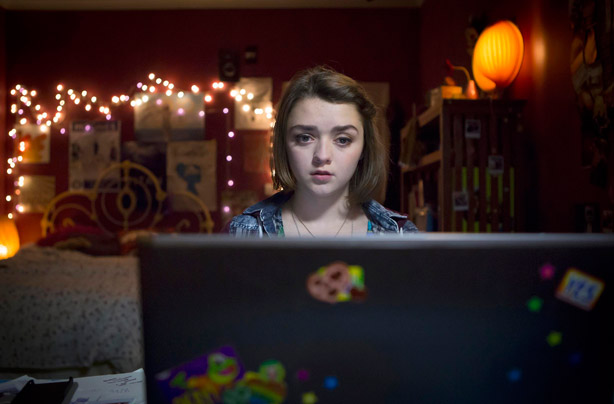 Maisie plays
a teenager being tormented by a relentless cyber-stalker
Playing the role of Casey was something which Maisie could understand; it's the world in which she's grown up in.
'We want this to be really believable for teenagers because as soon as it's not, they don't take it seriously – it's just another grown up trying to write a thing for kids. I totally get that.'
'I felt completely alone'
The story of Casey – immature, naive and alone in her room, not knowing what to do or who to turn to – accurately reflects the isolating experience cyberbullying can be for a child, says Maisie:
'I've been on a train, right next to my mum with my phone in my hand, scrolling through constant abuse right next to my mum and feeling completely on my own.'
Maise was a victim of cyberbullying at school due to being 'that girl on telly'.
Worth a watch? We reckon so. Cyberbully is on at 9pm on Thursday 15 January 2015.
Have your kids been the victims of cyberbullying? Let us know by leaving a comment below.