We earn a commission for products purchased through some links in this article.
A photographer and mother of two is fighting back against unrealistic images of breastfeeding in the mainstream media that are 'sheer fantasy'.
Suzie Blake, who lives in Australia, started her 'What Does Breastfeeding Look Like?' photography campaign after becoming fed up with the 'angelic women in clinical white perfection' and stylized, photoshopped pictures that grace the covers of fashion magazines.
Suzie's goal for the documentary project is to bring more authenticity and an 'unpolished' finish to the exposure that people get to breastfeeding.
Mother to three-year-old Maximiliano and eight-month-old Xavier, she says: 'This project is about portraying breastfeeding in all it's beautiful messiness. This is about tired eyes and no make up. This is about milk leaks and ratty hair.
'This is about giving in to all the demands of your 2 year old while you try to feed your newborn. This is about dishes pilled up in the kitchen and dirty laundry building in the corner.'
In a scene that all parents can relate to, Suzie says that breastfeeding should feature the 'puke on your shoulder', and the 'toys on the floor' from older siblings who need attention too.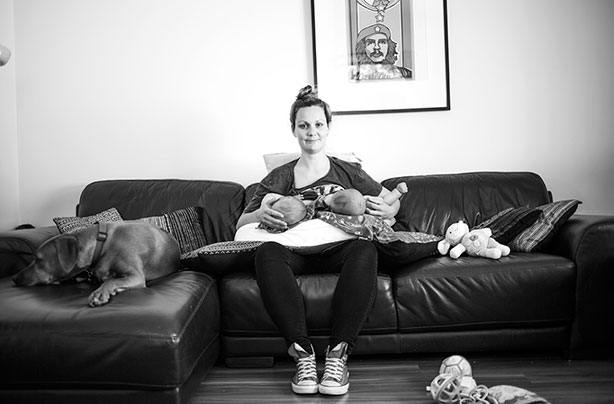 Image:whatdoesbreastfeedinglooklikeTumblr
The Melbourne native believes that breastfeeding is a 'human right for all people.'
Discussing how breastfeeding in public is portrayed, she adds that it should be more about 'milk sprays in cafes and engorged breasts at the park' than sterile environments.
On her website and Facebook page, Suzie is always looking for women to take part, with no bias – she will shoot anyone who is up for getting involved.
If you are interested in taking part, but think that Australia seems a little far away, Suzie is currently running an IndieGoGo campaign to raise money to travel to Europe and continue her work.
She particularly wants to come to the UK, which has the lowest rates of breastfeeding within Europe. She wants to meet mothers and 'learn about their experience'.
'I need to be in the place that needs the most breastfeeding advocacy – the UK is that place.'
So far she has raised $1238 in 28 days towards her goal of $4,000.