We earn a commission for products purchased through some links in this article.
Make the most of the summer by making your garden a beautiful place to relax in.
This stylish bench is a perfect place to start if you're looking to update your garden furniture, with its modern painted finish and delicate floral details it will look great in any setting.
We love this colour combination, which reminds us of Japanese art, but you could of course paint your bench in any colour you fancy. Once you've read through our simple step-by-step guide you'll be confident enough to put your own twist on it, we're sure.
If you're feeling brave you could get the kids to help you, but maybe get them to concentrate on doing the back – very thoroughly – leaving the facing sides to your expert hands.
They'll love getting stuck in, painting outdoors, and it's a great way to spend family time together while not having to spend much.
Once you've made your bench all there is to do is to add some cushions, grab a copy of your favourite magazine, a cold drink and to lay yourself down on your latest work of art – just make sure it's dry first!
You will need
Bench 

Sandpaper 

Paintbrush 

Primer 

Waterproof or oil based paint 

Decorative paper 

Glue

Varnish
Step 1
Sand your bench lightly if it's old and has been in the garden all winter long. This will remove any old or loose paint or varnish. Before you start painting, make sure the bench is completely dry.
Step 2
Paint the bench with a coat of primer and leave to dry, then give it a coat or two of your chosen colour. We used an oil-based satinwood. Leave to dry.
Step 3
Cut out large petal shapes from decorative papers. We used decopatch tissue papers, as they are thin and will sit nearly completely fat against the bench, but anything goes.
USE glue to stick each petal shape in place – we used decopatch waterproof glue. Five or six petals per flower work best. Each petal should be positioned over a few wooden strips on the bench.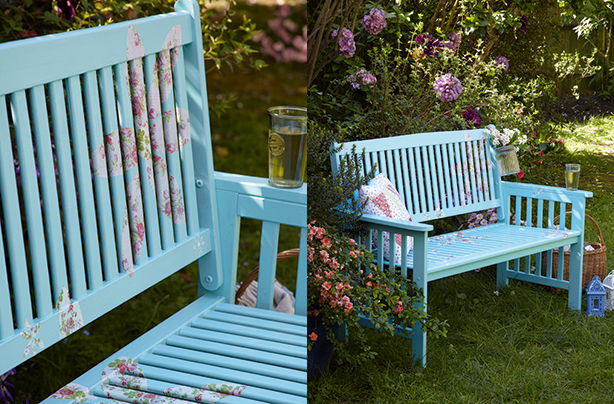 Step 4
Cut where the paper isn't stuck to any wood and glue the flaps towards the back. Continue with as many flowers as you like, then leave to dry.
Give the whole bench a coat of varnish to make the paper designs waterproof.