We earn a commission for products purchased through some links in this article.
Turn dull old coffee tables into vintage distressed tables
What? Take a nest of old tables and turn them into a matching set of faux-aged, fashionably worn looking beauties.
How? The 'distressing' process involves painting, varnishing and a bit of sanding and will take a half days' work.
Why? This revamp will let you add a slightly edgy, trendy feel to any room. It also lets you unite several pieces of furniture (let us not limit ourselves to tables alone!) in one uniform style, making them look like they were bought as part of a set.
Get our guide for making a vintage distressed table
Turn a plain low set of drawers into a fun chalkboard design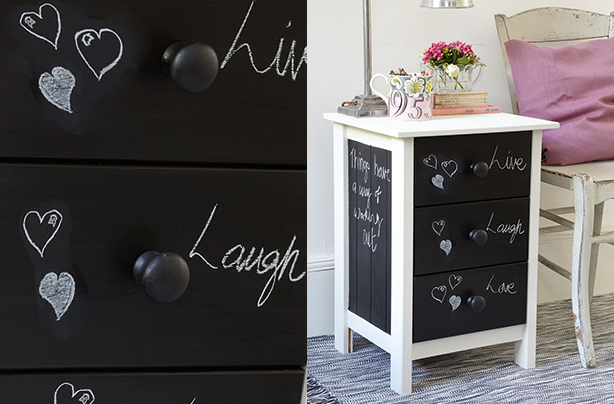 What? Our guide will show you how to take an unassuming, bed-side or living room set of drawers and add a creative twist in the form a chalkboard panel effect.
How? To do this you will make highly satisfying (and addictive!) use of blackboard paint, and should be finished in under a day's work.
Why? The kids will love this interactive addition to the house, catering to their creative whims through the usually forbidden canvas of household furniture. The drawers also have a nice, sharp monochrome look that will fit in with a range of modern settings.
Get our guide to make chalkboard drawers
Turn average drawers to a new stylish version
What? This second drawer tranformation in our list has a slightly more conventional spin. Our guide will show you how to match your set of drawers with the patterns and theme of any surrounding space in your home.
How? This drawer upcycle process makes clever use of wallpaper, and should be finished by the end of the day if you can keep the kids quiet.
Why? The beauty of upcycling with wallpaper is that you can match the drawers to whatever style you fancy, allowing you to slot them in to complement any colour scheme or style, from bright flural to sharply contrasting.
Get our guide to upcycle your own drawers
Turn a bare cupboard into a pretty, wallpaper-clad cupboard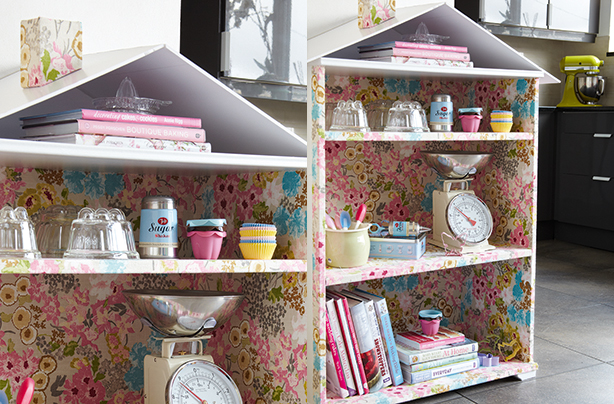 What? Give your old cupboard (or book shelf or shelving unit) a flowery makeover with this wallpaper-based tranformative guide.
How? We will show you how to flawlessly cover your cupboard from top to bottom in the colourful wallpaper of your choice in under a day using just wallpaper and paste.
Why? The newly renovated shelves will brighten up your home. Plus, once you've learnt to do this with a cupboard, the skill can be applied to any number of other pieces of furniture that need a bit of brightening up!
Get our guide for making pretty cupboards
Turn a boring desk into a new and beautifully varnished centrepiece
What? Give an old desk new life with a much-needed lick of paint (and stripes!), coat of varnish and new handles, allowing it to resume its role as a study surface rather than a target for junk-piling.
How? All you'll need for this refurb is a can of (preferably chalk-based) paint, some masking tape, some varnish and new drawer handles. And of course, a desk.
Why? A refurbished desk will change the whole approach you take to studying – having a beautiful and clear study space is important to allow you to approach work with a positive attitude and equally un-cluttered mind.