We earn a commission for products purchased through some links in this article.
TV star Kelly Osbourne has revealed that she has the BRCA1 cancer gene, and will have preventative surgery in the future.
The 30-year-old shared her discovery on US TV show The Talk, explaining, 'My mom made all of us get tested after she found out that she had it and got her double mastectomy.'
Kelly's mother Sharon was diagnosed with colon cancer in 2002, and after her recovery she underwent testing for the gene. She was diagnosed as a carrier, prompting her to have a preventative mastectomy – something which Kelly says she would consider in the future too.
'I agree with this 100 percent,' she said. 'I know that one day I will eventually have to do it too because if I have children, I want to be there to bring them up. I want to be there to support them in every way I can.'
Kelly's mother Sharon has already has a mastectomy after finding out she was a carrier of the gene
The news comes after Angelina Jolie penned a piece for the New York Times detailing her surgery to remove her ovaries and force early menopause, two years after her own preventative double mastectomy. Angelina's mother, aunt and grandmother all passed away from cancer, a fact which made her decision to act as straightforward one.
'My mother's ovarian cancer was diagnosed when she was 49. I'm 39,' she wrote in her piece. 'I know my children will never have to say, 'Mom died of ovarian cancer.'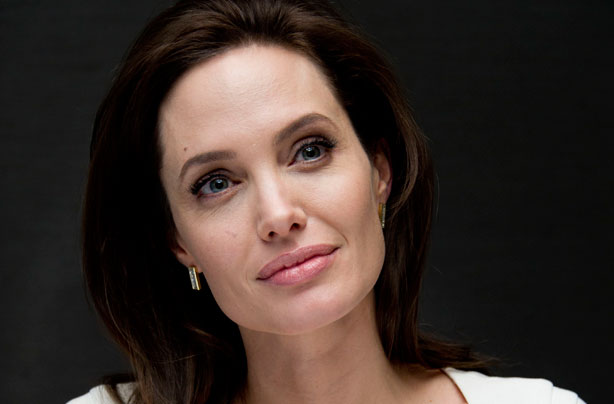 Angelina chose to have surgery after discovering that her BRCA1 gene gave her an estimated 87 percent risk of breast cancer and a 50 percent risk of ovarian cancer
Kelly voiced her support for Angelina's decision not only to have the operation, but to bring the issue into the public eye.
'It's something I applaud Angelina for because she's bringing attention to this, and people are now going to go out and get tested for it,' she said.
Angelina and Kelly are not the only celebs who have spoken out about their experiences – Michelle Heaton chose to have a full hysterectomy in 2014 after finding out she had the the mutated BRCA2 gen, and singer Anastacia underwent a mastectomy in 2013, after being diagnosed with breast cancer twice.
'I was diagnosed with breast cancer for the second time earlier this year and am currently in the final stages of recovery after undergoing a double mastectomy,' Anasticia revealed at the time.
'Early detection has saved my life twice. I will continue to battle and lend my voice in any way I can.'