We earn a commission for products purchased through some links in this article.
Sandra Bullock was recently voted the 'World's Most Beautiful Woman' by People magazine, and whilst it's an award that would flatter many people, the 50-year-old was not too impressed with her new title.
In a 'celebrity sitdown' with E!, Sandra's interviewer opens with the line 'You were voted the most beautiful woman in the world', to which she responds, 'Well of course, that was coming', whilst pulling THIS face:
'You also want to be outspoken against how women are portrayed in the media. Tell me about that,' he continues.
And as she's just been given an open platform, Sandra does just that.
'I feel like it's become open hunting season,' she says. 'And how women are attacked, it's not because of who we are as people, it's because of how we look, or age.'
'I'm shocked, and maybe I was just naive, but I'm embarassed by it because my son's getting ready to grow up in this world and I'm trying to raise a good man who values and appreciates women, and here we have this attack on women in the media that I don't see a stop happening.'
'Little girls are having the hardest time with bullying, and the
internet, and somebody with a very large hand and big voice needs to put a stop to it.'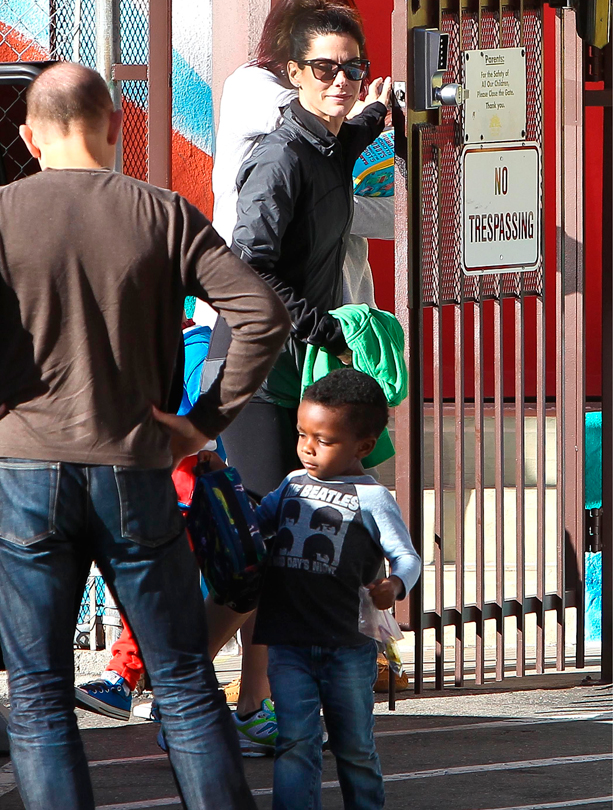 Sandra, pictured with son Louis in 2013, says she's trying to 'raise a good man who values and appreciates women', but the media's attitude isn't helping
'You'd be surprised at the love you have in our crazy industry,' she continues. 'The women have bonded together, and it's become a tribe of trying to take care of each other, and be there for each other, in a way, because the minute you step out, it is an onslaught.'
'And yeah, I laughed when they said they're gonna be generous and bestow me this wonderful privilege, but I said if I can talk about the amazing women that I find beautiful, which is women who rise above and take care of business and do wonderful things and take care of each other, then I'm more than honoured to be on the cover of this.'
'We need to stop. We are harming girls and women in a way, in a speed, that it's scaring me. It's really scaring me. I would love for someone to help put a stop to this.'
Sandra, we salute you – and we think your outburst might just be the catalyst that's needed.