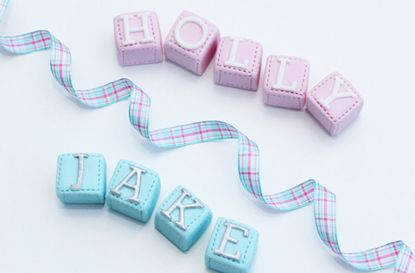 (Image credit: Future)
Perfect for first birthdays, baby showers and christenings, these colourful blocks are the simplest way to personalise a cake.
With just a couple of ingredients and some letter cutters you can make these to sit on top any kind of cake - from big to small and they'll make a lovely centrepiece for whatever occasion you're celebrating.
Make them in any colour you like depending on who they're for and try experimenting with the letters too, adding glitter or different colours to the paste. Click here to see how to make the baby too!
Ingredients
To make 5 blocks you will need:
30g white fondant
40g modelling paste
Food colour paste
Cornflour for dusting
Edible silver paint
Step 1
Mix 30g of fondant and 30g of modelling paste (keeping 10g for the lettering) together and knead for a couple of minutes to warm the paste up. Colour with a touch of food colour paste.



Step 2
Roll the fondant/paste mixture into a 20mm thick sausage and mark out squares on the top, as a guide where to cut.



Step 3
Cut the squares out using a sharp knife and flatten the top by rubbing it onto your work surface. Use a touch of corn flour to stop the squares sticking.



Step 4
Emboss the edges of the squares with the stitch tool or a cocktail stick.



Step 5
Roll 10g of white modelling paste to 1mm thick and leave to dry on the counter for 15 minutes. Dust the counter and letter cutters lightly with corn flour. Cut your letters and tap the end of the cutter on the counter - the letter should fall out. If it gets stuck in the cutter, the paste needs to be thinner, roll and leave to dry again.



Step 6
Stick the letters to the blocks with a brush of water.



Step 7
You could leave the letters white or paint them with edible paint.



Step 8
Display the blocks on your chosen cake.



Victoria Threader is 'the queen of cupcakes' and a contributing Recipe Writer at GoodTo. Not only can she bake delicious cupcakes, she can decorate them too - with each of Victoria's cupcakes topped with handmade edible toppers. Some of her most popular cupcakes include: rainbow cupcakes, hidden shape cupcakes and even giant cupcakes.