About GoodTo - who we are and why you can trust us
Welcome to GoodTo, the website empowering parents to do it their own way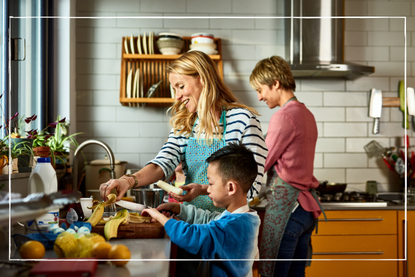 ABOUT GOODTO
Here at GoodTo, our mission is simple: to empower parents and parents-to-be to do it their own way by answering the questions that parenting brings up as your child grows.
On the site, you'll find everything you need for a happy, healthy family life. Our 16-year-strong archive of content includes more than 18,000 articles and 1,500 how-to videos. These include tried-and-tested product reviews and buying recommendations for every stage of family life - from prams and Moses baskets to birthday gifts and top toys. We also feature expert-backed, fact-based information and advice on pregnancy, parenting, wellbeing, and managing your family finances. There's also daily entertainment news (because every parent needs a bit of escapism), and the very best recipes for family meals or to bake with the kids.
We know that being a parent can be conflicting, challenging and confusing - some days all before 9am! That's why our team of brilliant writers and contributors includes real-life parents with first-hand experience of the same concerns and questions, as well as qualified experts - so you can always trust what we say. You can read more about our contributors in the 'meet the team' section.
In line with our core brand values, we strive to be trusted, informative, empathetic - and here for you at every stage of your parenting journey.
OUR HISTORY
GoodTo was founded in 2007 by our then-parent company, IPC Media (which later went on to become Time Inc UK, then TI Media, then Future plc - our current owners). Back then we were called GoodtoKnow, and the site - goodtoknow.co.uk - covered recipes, health, diet, family, celebrity, and relationships.
The site quickly became popular with busy mums, and in February 2010 we launched a spin-off print magazine called GoodToKnow Recipes, aimed at providing parents with quick, cheap and easy recipe ideas. Whilst that magazine eventually closed, many of the delicious recipes featured on its pages live-on in our Food channel.
Happily, the website continued to go from strength to strength, and in 2022 - due partly to a growing international audience - we relaunched as GoodTo.com. GoodtoKnow became a sub-brand of the site, housing all the latest family, food, money, shopping and entertainment news. Other sub-brands include GoodtoParent - the home of our expert parenting advice, covering everything from conception and birth through to baby and childhood development - and GoodtoEat, our food and recipe hub.
Today we work with journalists in both the UK and US to provide parents with trusted buying advice, reliable reviews of essential baby and child buys, information on family finances, and meal inspiration for every occasion.
WHY TRUST US?
Our qualified writers work closely with specialists to offer practical and relatable information on a huge spectrum of family topics. From conception and pregnancy, through to labour and birth including baby development and childhood milestones, we've got it all covered. We work with hugely talented contributors and trusted expert verifiers including respected midwives and doctors, parenting experts, and psychologists.
We also collaborate with a huge and diverse range of well-liked, engaging, and funny Instagram influencers and content producers, to share the laughs and experiences every parent goes through. Parenting, families, and life can be hard sometimes. If you have a question, we're here to help you answer it.
GoodTo also offers a wealth of cooking advice and 7000+family-friendly recipes, as well as how-to guides and videos. All of our recipes are created in our very own Test Kitchen by our team of expert chefs and bakers. We test each recipe until we're confident we're sharing the best method, so you can be confident of achieving the perfect results.
We also work with some of the best food stylists and nutritionists in the industry and have built up a huge collection of recipes created by celebrity chefs – such as Mary Berry, Gordon Ramsay, Joe Wicks, Hairy Bikers, and Nadiya Hussain.
HOW WE TEST PRODUCTS
Our review process is thorough, fair and consistent to ensure that our product reviews are robust, honest and detailed - and carried out by parents who are up against the same life challenges as you. We're committed to making sure you spend your money on the best products for the job - anything to make your life that little bit easier.
We identify products for review based on industry trends and audience insights and then calls in samples from brands and retailers for testing. Our parent-tested reviews are always uncompromising and utterly independent. We have affiliate partnerships with many baby gear brands and may earn a commission if you buy a product we recommend but this never influences editorial decisions or product inclusions. We work closely with all the major baby gear brands and retailers so we hear about new product launches before they happen and are among the first to review the latest must-have toys, items of baby gear, and parenting essentials.
Read more about how we test baby products for our reviews.
Testimonials:
Think this is the best review we've had on any product. Beyond excited to circulate this to our wider teams. Thank you so much to you and (mum tester) Grace for this review!
Bekah Duce, PR & Social Media Executive
Thank you SO much for sharing – I've just shared this with our board team and they're over the moon. By far the most thorough review we've ever received and we're so happy with the comments! Thank you so much to you and (mum tester) Lynsey!
Mamas & Papas
AFFILIATE & ADVERTISING DISCLOSURE
We always aim to provide unbiased editorial created by our journalists and writers. We also need to pay our teams and website costs so we make money in a number of ways. We sometimes use affiliate links to products and services on retailer sites for which we can receive compensation if you click on those links or make purchases through them. From time to time we also publish advertorials (paid-for editorial content) and sponsored content on the site. When this is the case the content is clearly marked as sponsored or promoted, so you'll always know which content is editorial and which is not. Future PLC is our parent company and has an in-depth terms and conditions page with a lot more information that you can read right here.
GOODTO EDITORIAL TEAM AND CONTRIBUTORS
Anna Bailey has been the editor of Goodto since 2018. Before joining the team she was Features Editor at MSN UK, where she oversaw Family Health and Days Out. Previously, she was Digital Lifestyle Editor for the broadcaster UKTV, and Lifestyle Editor for ITV.com. Anna studied Multi-Media Journalism at Bournemouth University and went on to gain her NCTJ and NCE journalism qualifications. Anna is responsible for driving the direction and editorial strategy of Goodto. A mum and experienced baby product tester, she is passionate about providing safe, trustworthy, and relatable advice for families of all kinds.
Find out more
FAMILY
Stephanie Lowe has more than 13 years of experience as a digital journalist and is currently working towards an Open University course: 'Introduction to childhood studies and child psychology. She's worked at The Sun's TV Mag, Woman's Own, BT.com, Press Association, Essentials, and Hello! Since becoming a parent Stephanie is passionate about empowering mums and dads to trust their instincts in confidently making their choices. Stephanie graduated from the University of Bedfordshire with a degree in Journalism and PR (2:1 BA Hons) in 2008.
Find out more
Tannice Hemming has worked alongside her local NHS in Kent and Medway since she became a parent and is now a mum of three. As a Maternity Voices Partnership Chair, she bridged the gap between service users (birthing women and people, plus their families) and clinicians, to co-produce improvements in Maternity care. She has also worked as a breastfeeding peer supporter. Two of her proudest achievements include Co-authoring Health Education England's E-learning on Trauma Informed Care and the Kent and Medway Bump, Birth and Beyond maternity website. Tannice has collaborated with Public Health England (now the UK Health Security Agency), NHS England and Health Education England. A current member of several maternity steering groups and panels, projects Tannice has collaborated on include several focusing on maternal mental health, maternal weight and chronic illness.
Find out more
With over 22 years of experience in journalism, Jayne's written about a variety of subjects and is just as at home interviewing A-list stars as she is testing nappies. Having started her career writing about Pokémon, ponies, and wrestling, Jayne moved into the world of film journalism, where she spent the next eight years pinching herself while she got paid to interview Hollywood film stars and attend premieres. Since then, she's launched websites for major magazines, worked with top brands such as Westfield, LK Bennett, and Hunter, had her own tech column in Women's Own, and has more recently lent her wordy expertise to small businesses, including Andrea McLean's This Girl Is On Fire membership site.
Find out more
Dr Larisa Corda is an obstetrician and gynecologist and one of the UK's leading fertility specialists. Larisa is ITV This Morning's and Channel Mum's Fertility Expert. She qualified from Imperial College London with her training taking place in both the UK and Australia. This has seen her gain an understanding and appreciation of gynecological, obstetric and fertility issues across a wide international population. Larisa's work and research interests have been published and presented internationally. She believes in using innovative natural and mild IVF techniques.
Find out more
Rachel Fitz-Desorgher is a leading, internationally-known baby expert, and parenting mentor. Having worked for over 30 years as a midwife, infant feeding specialist, active birth teacher and parenting consultant, she published her first book, Your Baby Skin To Skin in 2017 and it quickly gathered five-star status with its reviewers. Rachel Fitz-Desorgher has been featured in several articles for publications including The Daily Mail, The Independent, The Express and Yahoo Lifestyle. She's also a regular contributor for Mother&Baby.
Find out more
Alexandra Stedman has worked in the media industry for over 15 years, including magazines Eve, Red, and Conde Nast Traveller. Her blog The Frugality, established in 2012, is now a recognised multi-platform lifestyle brand with a team of contributors and 256K Instagram following. She talks candidly, and since becoming a parent her platform has helped her to reach out to fellow mums; talking candidly about maternity leave, announcing pregnancies on social media, her experience with reusable nappies, and the best independent baby brands out there.
Find out more
BUYING GUIDE SPECIALISTS
Heidi Scrimgeour joined GoodTo after a 16-year freelance career as a parenting and lifestyle journalist. She has written features for various publications including The Guardian, Telegraph, Daily Mail, Red, Psychologies and Stylist. She was a parenting columnist for AOL's Parentdish and baby gear editor of Mother & Baby magazine for six years. Heidi has taken part in various parenting debates on This Morning, The One Show and BBC Radio 4's Woman's Hour. She has a degree in English & Media Arts and gained a Masters with Distinction from the University of Westminster.
Find out more
Emily Peck is a lifestyle journalist with over 20 years experience. Emily writes in-depth reviews and features for GoodTo covering the latest must-have cooking appliances, baby products, and toys. She has previously worked for BBC Good Homes, 25 Beautiful Homes, Ideal Home, Livingetc, GQ magazine, Techradar, Wired and Stylist. As a mum of two young kids, she has a ready-made team of 'testing assistants' on hand keen to help out by trialing the latest products she's reviewing for work – be it baby monitors, kids smartwatches and tablets, juicers, slow cookers and more.
Find out more
FOOD
Jessica Dady joined the GoodTo team in 2012 as Recipes Assistant following her graduation from Brunel University. She now works closely with GoodTo's Test Kitchen to create trending recipes and how-to videos. A passionate baker, Jessica spends much of her time creating celebration cakes. Jessica has also written for Honest Cooking, Fresh, Essentials, and Eat In magazine, and has previously worked with BBC, Good Housekeeping, Reader's Digest, TV Choice, Marks & Spencers, and UKTV.
Find out more
Octavia Lillywhite is an award-winning food and lifestyle journalist with over 15 years of experience. She joined the Sunday Mirror magazine as a reporter and stayed until she was running the Food and Lifestyle department. With a passion for creating beautiful, tasty family meals that don't use hundreds of ingredients, Octavia is a champion of local and seasonal foods, using up leftovers and composting. Having produced Saturday Magazine's wine column, Octavia certainly knows her Côtes de Rhône from her Hautes-Côtes de Beaune and can drink wine "really well".