About Us - Who's on the Goodto team?
It's our mission to empower parents with the knowledge and inspiration they need to make their own decisions, with confidence. We remind parents that they know their children better than anyone, and encourage them to trust their own mind.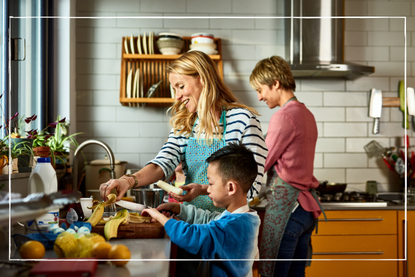 WHO ARE WE?
Trusted, informative, and empathetic - GoodTo is the ultimate online destination for mums. Established in 2007, our 15-year-strong archive of content includes more than 18,000 articles, 1,500 how-to videos, and 7,000 recipes. GoodTo is the prefix for our core channels - GoodtoKnow, GoodtoParent, and GoodtoEat.
Powered by curiosity, backed by experts. We're always learning, ever curious and we like to share. We aim to create content that will inspire and encourage our readers. You might be a parent, but you're still you, and our motto is simple: Empowering parents to make their own decisions. Our expert insight, opinions and fact-based information is here to help you make decisions that work for you and your family.
WHY TRUST US?
Our qualified writers work closely with specialists to offer practical and relatable information on a huge spectrum of family topics. From conception and pregnancy, through to labour and birth including baby development and childhood milestones, we've got it all covered. We work with hugely talented contributors and trusted expert verifiers including respected midwives and doctors, parenting experts, and psychologists.
We also collaborate with a huge and diverse range of well-liked, engaging, and funny Instagram influencers and content producers, to share the laughs and experiences every parent goes through. Parenting, families, and life can be hard sometimes. If you have a question, we're here to help you answer it.
GoodTo also offers a wealth of cooking advice and 7000+family-friendly recipes, as well as how-to guides and videos. All of our recipes are created in our very own Test Kitchen by our team of expert chefs and bakers. We test each recipe until we're confident we're sharing the best method, so you can be confident of achieving the perfect results.
We also work with some of the best food stylists and nutritionists in the industry and have built up a huge collection of recipes created by celebrity chefs – such as Mary Berry, Gordon Ramsay, Joe Wicks, Hairy Bikers, and Nadiya Hussain.
In our video series How to Cook Absolutely Everything we teamed up with some of the nation's best restaurateurs and chefs, including Honest Burger's Tom Barton, Masterchef winner Tim Anderson, and the king of pasta Theo Randall.
HOW WE TEST PRODUCTS
Our review process is thorough, fair and consistent to ensure that our product reviews are robust, honest and detailed - and carried out by parents who are up against the same life challenges as you. We're committed to making sure you spend your money on the best products for the job - anything to make your life that little bit easier.
We identify products for review based on industry trends and audience insights and then calls in samples from brands and retailers for testing. Our parent-tested reviews are always uncompromising and utterly independent. We have affiliate partnerships with many baby gear brands and may earn a commission if you buy a product we recommend but this never influences editorial decisions or product inclusions. We work closely with all the major baby gear brands and retailers so we hear about new product launches before they happen and are among the first to review the latest must-have toys, items of baby gear, and parenting essentials.
Read more about how we test baby products for our reviews.
Testimonials:
Think this is the best review we've had on any product. Beyond excited to circulate this to our wider teams. Thank you so much to you and (mum tester) Grace for this review!
Bekah Duce, PR & Social Media Executive
Thank you SO much for sharing – I've just shared this with our board team and they're over the moon. By far the most thorough review we've ever received and we're so happy with the comments! Thank you so much to you and (mum tester) Lynsey!
Mamas & Papas
AFFILIATE & ADVERTISING DISCLOSURE
We always aim to provide unbiased editorial created by our journalists and writers. We also need to pay our teams and website costs so we make money in a number of ways. We sometimes use affiliate links to products and services on retailer sites for which we can receive compensation if you click on those links or make purchases through them. From time to time we also publish advertorials (paid-for editorial content) and sponsored content on the site. When this is the case the content is clearly marked as sponsored or promoted, so you'll always know which content is editorial and which is not. Future PLC is our parent company and has an in-depth terms and conditions page with a lot more information that you can read right here.
GOODTO EDITORIAL TEAM AND CONTRIBUTORS