How to make mushroom pȃté with Chantelle Nicolson
Here's how to make the most delicious mushroom pȃté, using a variety of mushrooms and no animal products, by chef Chantelle Nicholson...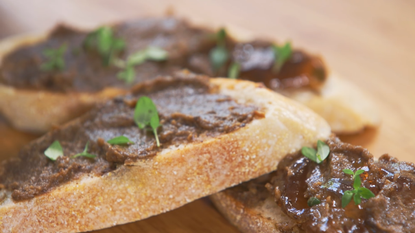 (Image credit: Future)
Mushroom pȃté is the perfect vegetarian starter served with delicious crusty bread. Here chef Chantelle Nicholson, originally from Tredwell's restaurant, now the owner of Apricity Restaurant in Mayfair, shows us how to make her signature recipe.
"Fermenting is the best technique you can use to create a pȃté, as it enhances the savouriness and overall flavour of its ingredients," says Chantelle Nicholson (opens in new tab). In this recipe, the fermentation intensifies the umami flavour of the mushrooms, which are then turned into a delicious spread.
"The Lapsang Souchong jelly that is used to layer on top of the base of your pȃté provides this wonderful smokiness to it, which when combined together makes a beautiful combination of earthy flavours," adds Chantelle.
This specific recipe is ideal for a dinner party starter and serves eight people. If feeding more or less, simply adjust the ingredients to how many you are feeding. Chantelle serves this delicious pȃté with toast but we think some tasty crusty bread or crackers would be perfect with it too.
Preparation: This simple recipe requires patience to make and can take a few days in total. This is a recipe that also has to be prepped ahead of time as it needs at least 3 days to ferment so it has the best flavour.
Once you have made the base of your pȃté, you must store your mixture in a big mixing bowl and cover it tightly with cling film and wait patiently for it to ferment for at least 3 days.
After blending your pȃté, you will need to set it in your fridge for two hours and make your Lapsang Souchong jelly in the meantime. Finally, once your Lapsang Souchong jelly is ready, you must set your pȃté for another couple of hours in the fridge then voila, your delicious pȃté is ready to be served.
Watch how to make the best mushroom pȃté
Ingredients:
Chestnut mushrooms
Fresh thyme
Shallots
Madeira
Olive oil
Rice milk (any non-dairy milk; almond, oat etc.)
Salt and pepper
For the Lapsang Souchong jelly:
250ml boiling water
Lapsang Souchong tea
Maple syrup
Madeira
Vege Gel
Fresh thyme leaves
How to make mushroom pȃté
Step 1
Place all ingredients for the mushroom pȃté in a large mixing bowl. Using your hands, mix everything together and massage the mushrooms so they begin to break down. Place in a glass jar and pack tight. Cover with clingfilm and leave at room temperature for 3 days.
Step 2
Pour the contents of the jar into a colander and allow the majority of the liquid to drain off, reserve the liquid and set aside. Heat the butter in a large saucepan over a moderate to high heat. Add the contents of the colander. Cook the mushrooms for 10 minutes until most of the liquid has evaporated. Add the reserved liquid from the fermentation and cook for a further 10 minutes.
Step 3
Remove the thyme stalks from the pan then place the contents of the saucepan into a blender. Blend until smooth and transfer to a dish, approximately 19cm x 12cm. With the back of a spoon, or knife, smooth the top and place in the fridge for 2 hours.
Step 4
For the jelly, bring 250ml water to the boil. Add the tea and Vege Gel, whisk well and leave to sit for 6 minutes. Whisk well then strain through a fine sieve. Add the Madeira and maple syrup.
Step 5
Remove the pȃté from the fridge and carefully pour the jelly on top. Pick the leaves from the reserved thyme and place on top of the jelly. Refrigerate for a further hour, then serve.
FAQs about making homemade pȃté
Is pȃté healthy?
Pȃté is a spread that is better eaten in moderation, due to it having higher fat content. However, it also has some great micronutrients in it. The first is iron, which can help to increase your energy on a daily basis as well as vitamin A and B-12, which can help to increase your immune system and support your nervous system.
Is it better to eat pȃté hot or cold?
Pȃté can be served hot or cold depending on the event. However, it is deemed more popular to eat pȃté cold, as when it is chilled its flavours are more poignant.
It is said that if you leave your pȃté to get to room temperature for an hour or two before serving that it will taste even better.
How do you serve pȃté?
Pȃté is the perfect light lunch or elegant appetizer. If you fancy it for lunch, simply spread it over some toasted crusty bread of your choice. Bread such as sourdough or toasted baguette would be perfect.
To serve as a starter, we suggest laying out a selection of sliced toasted baguettes and a range of different crackers for your guest to choose from. We also think pȃté is a great addition to an after-dinner cheese board.
How to store homemade pȃté
Despite your pȃté being homemade, it still tends to only have a shelf life of around a week if stored correctly in the fridge. The best way to make sure your pȃté stays fresh is to make sure you wrap your pȃté dish tightly in cling film before storing it in the fridge.
You can also store pȃté in the freezer for up to three months but we highly recommend freezing your pȃté in portions. This way you will only defrost how much pȃté you will need each time and will not end up with any leftover pȃté.
We recommend using small tins or trays that match the size of the pȃté portions you would eat each time. Also, we strongly suggest wrapping them in a few layers of cling film, as you do not want your pȃté to start absorbing other odours in your freezer.
Our best pȃté recipes
1. Chicken liver pȃté with brandy
This pȃté screams Christmas and we are all here for it. With its brandy twist, it is a mouth-watering spread with a warming kick.
Get the recipe: Chicken liver pate with brandy (opens in new tab)
2. Trout pȃté
This creamy pȃté is super easy to make and is the perfect starter or side dish alongside some cheese and crackers. The soured cream and lemon beautifully cut through the trout to make a pȃté that is bursting with flavour.
Get the recipe: Trout pate (opens in new tab)
3. Smoked mackerel pȃté
Using only three ingredients and taking only 10 minutes to make, this creamy pȃté has a sweet and strong mackerel flavour to it that is perfect when paired with some fresh chives or dill.
Get the recipe: Smoked mackerel pate (opens in new tab)
4. Salmon pȃté
Served on a beautiful crusty bread or crackers along with lots of rockets, it is a pȃté that is super easy to make and is a great starter or light lunch.
Get the recipe: Salmon pate (opens in new tab)
5. Three pork pȃté
Using fresh liver, pork, and bacon, this is the ultimate meaty pȃté. Flavoured with brandy, nutmeg, garlic, and sage, it's another perfect spread for your cheese board this Christmas.
Get the recipe: Three pork pate (opens in new tab)