29 best gifts for new mums 2023 - thoughtful ideas for new mums and mums-to-be
Gifts for new mums *spoiler alert* it's not flowers or a plant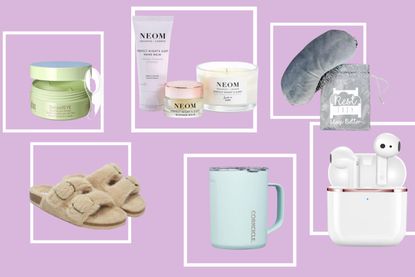 (Image credit: Future)
The gifts for new mums that they really want, according to mums themselves.
A gift that will make her feel like she's not alone, that she's heard and supported, and one that will also be useful during those whirlwind first few months with a newborn. Forget flowers and plants - while they're a nice idea in theory, in practice, it's another thing for a new mum to look after.
With this in mind, we've compiled a host of great (and useful) gifts for new mums that have been tried and tested by our teams or directly recommended by new mums, so you know you're in on to a winner with these presents.
Best gifts for new mums 2023
Where to find the best gifts for new mums in the UK
If you want intel on the best places to buy gifts for new mums then look no further, below are our go-to sites...
Our pick of the best gifts for new mums
---
---
---
---
---
---
---
---
---
---
---
---
---
---
---
---
---
---
---
---
---
---
---
---
---
---
---
---
---
What are the best gifts for new mums?
If you're looking for the best gifts for new mums, and want to be original, pull together your own pamper hamper. Buy all the things you know your friend will like - personal and tailored to her. That way nothing is wasted. You can include little handwritten notes of advice from other friends who have had babies.
Plus the practical items you know she'll need. Think chapstick - lips get so dry when breastfeeding. And also a water bottle that is leak proof and can be opened with one hand. Another nice idea is offering to do a food shop for her. She can just send you her list and you'll deliver it, with a hot coffee too.
Additional advice from Goodto Family Editor Stephanie Lowe: Bringing a whole new person into this world is a hugely overwhelming and mind-blowing experience. New mothers need to be heard and helped. Whether that's with items that will make their new life easier - like a Lumie light up clock, or some essential me time. This 'me time' doesn't have to be a day at a spa. It can literally be as simple as you taking the baby for a walk in the pram while she has a quiet hour to sit and drink a hot coffee and scroll instagram, catch up on TV or read a book.
What should I buy for a newborn mum?
Having a baby, no matter if it's their first or third, is a monumental achievement and should be treated as such. The new mum will have all the feelings, emotions, and needs so go b beyond the normal 'new baby gifts' and instead give gifts that are useful to her. Like, gift vouchers for when she's up to shopping, food deliveries because feeding herself is a number one priority too, and time - offer to take the baby for a walk in the pram while she has a shower. Coffee shop gift card, because she will need all the caffeine to low-key function on very little sleep.
What do you bring someone who just had a baby in hospital?
Food is always a good gift to bring to new parents. Think Tupperware buffet platter of their favourite food. A postpartum recovery kit made up of practical items like large pads, nipple cream, painkillers, pretty socks, new deodorant, and moisturiser.
What things do mums like?
Lie-ins, lunch in, lunch out (as long as they didn't make it or clear up after it), a nap, spa treatments, gift vouchers, photos with all the family, time away from the family.
What to give a new mum who is struggling?
Non-judgemental ears and a shoulder to cry on. Mothering is hard, finding a new life balance, figuring out this brand new person who's entered your life, carving out time to themselves, putting themselves first. New mums need to know that it's okay to find it hard and not be happy always. Promote rest and relaxation when you talk to them. Give them time, offer to take the baby out while they nap (time it in between the baby's feeds so mum can relax)
Related features:


Video of the Week:
Stephanie Lowe is Family Editor at GoodTo covering all things parenting, pregnancy and more. She has over 13 years' experience as a digital journalist with a wealth of knowledge and experience when it comes to all things family and lifestyle. Stephanie lives in Kent with her husband and son, Ted. With his love of choo-choos, Hey Duggee and finger painting he keeps her on her toes.