28 best gifts for new mums 2022 - thoughtful ideas for new mums and mums-to-be
Gifts for new mums *spoiler alert* it's not flowers or a plant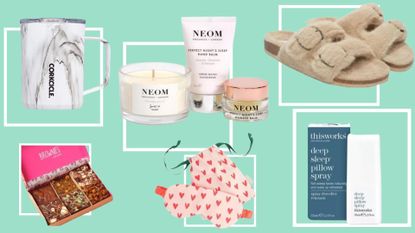 (Image credit: Future)
GoodTo newsletter
Sign up to the GoodTo Newsletter. You can unsubscribe at any time. For more information about how to do this, and how we hold your data, please see our privacy policy
Thank you for signing up to . You will receive a verification email shortly.
There was a problem. Please refresh the page and try again.
The gifts for new mums that they really want, according to mums themselves.
We know that the perfect gift for a new mum or mum-to-be may well be one of the best moses baskets (opens in new tab), or perhaps something from the best baby monitors (opens in new tab) list. And, of course, not forgetting the biggest purchase of all, the best pram (opens in new tab). However, sometimes the best gift for a new mum or mum-to-be is for her.
A gift that will make her feel special, heard and supported, and will also be useful to have to hand during those whirlwind first few months with a newborn. Flowers and plants while a nice idea, are just another thing for a new mum to look after, no we have found the best and most useful gifts for a new mum for you to choose from.
"Finding that perfect gift for a new mum can be tricky," says Goodto's Family Editor Stephanie Lowe (opens in new tab). "As a mum-of-one and friend to many a mum, useful or tasty are my two litmus tests when choosing a gift. Always remember that the term 'fed is best' works for baby, mum and dad too. Send a tower of brownies and you will go down in history as THE best gift giver at this new and exciting time. Especially when feeding yourself falls to the bottom of the to-do list."
With this in mind, we've compiled a host of great (and useful) gifts for new mums that have been tried and tested by our teams or directly recommended by new mums, so you know you're in good hands if you purchase these presents.
Best gifts for new mums 2022
1. New arrival essentials gift box
There are loads of great gift boxes out there for new mums but this one was a particular hit with us thanks to its thoughtful combination of bits for the baby and helpful gifts for new mums. Items like the Natural Birthing Company Bottoms Up Spray is a tried and tested product for soothing stitches and tears plus postpartum healing while the muslins are a must-have for any new parents.
A soft toy, with the baby's year of birth embroidered on it, is a lovely keepsake.
VIEW AT JOJO MAMAN BEBE | £45 (opens in new tab)


2. Cast The Heirloom Kit Bespoke baby fingerprint necklace
We always love the idea of giving a new mum a piece of jewellery to celebrate the birth of their baby, and this 'Heirloom Kit' from CAST takes the concept to a new, unbelievably special level.
As gifts for new mums go, the Heirloom Kit includes everything you need to capture this moment in time and create a bespoke, precious piece of jewellery to treasure forever. Simply make an impression of your baby's finger in a piece of soft putty-like wax and send it off to CAST. Their talented team will then cast a perfect replica of your design in the finest recycled silver, gold or platinum, creating a priceless memory of this special time to cherish.
VIEW AT NOTHS | FROM £75 (opens in new tab)
3. Natural Birthing Co Mama's Moments Maternity Kit
This gift set contains six natural products that have been developed with the help of midwives to help safely support mums though the journey of birth. No, it's not the most glamorous present on this list but new mums have said that they were "delighted" to receive this practical kit and used it much more than other presents they received.
"The bottoms up spray completely takes away the sting after the birth. Stopped using it thinking i maybe just wasn't sore and then the pain came thick and fast. Used the spray and away it went again so it really does work."
VIEW AT HOLLAND & BARRETT | £49.99 (opens in new tab)
4. Deep Sleep Pillow Spray
As best gifts for new mums go, this is proven to help you fall asleep faster. Made with ThisWorks' award-winning superblend of Lavender, Camomile and Vetivert calms both mind and body, soothing you to sleep. Also 99% natural, cruelty free and vegan. Don't forget to give your PJs a spritz too.
"I spray this before bedtime, firstly in the air above my bed then secondly over my pillow, the comforting gently sweet smell soon sends me to sleep. Like, it really does work."
VIEW AT BOOTS | £19.50 (opens in new tab)
5. Elizabeth Jane Baby Hand And Foot Inkless Print Kit
"Being a mother of two I know only too well how children grow up fast and you soon forget how tiny they once were," mum Anna tells us. "This inkless hand and footprint kit will help you remember in years to come how little they really were."
We love the price of this simple yet fun gift for new mums that creates gorgeous little prints that in years to come will become truly priceless.
VIEW AT NOTHS | £11 (opens in new tab)
6. Neom Bedtime Ritual
When you have a baby all routines change. So help the new mum in your life create new ones. As gifts for new mums go, this trio are well-known to help with sleep issues. Fragranced with a complex blend of up to 19 of the purest possible essential oils including English lavender, sweet basil, jasmine, chamomile and patchouli, all expertly chosen to help you relax and prepare for sleep.
"I was so tired after having my second child that I just fell into bed, but having these in arms reach really helped. My hands were so dry from all the constant hand-washing with a newborn. And having the wonder balm was great for my lips through the night. Definitely recommend for a new mum. Plus it's such a lush brand, one I'd never be able to justify buying myself. Making it the perfect gift. "
VIEW AT MARKS & SPENCER | £38 (opens in new tab)
7. Contigo Ashland Autospout Water Bottle
7. Contigo Ashland Autospout Water Bottle
Though it might not seem like a groundbreaking gift, a one handed water bottle is actually a perfect reminder to new mums to stay hydrated.
Mum-of-one Steph tells us how this water bottle was a 'game changer' for her. "A water bottle with a leak proof seal that you can pick up and open one-handed is a game changer. You get so thirsty those first few weeks, as you are either breastfeeding or just forgetting to drink water. Plus with a little one constantly making use of one arm/hand, a bottle that you can just have lying next to you is the best!"
VIEW AT AMAZON | £16.14 (opens in new tab)
8. Silver Engravable Bar Dot Bracelet
"My sister-in-law gifted me a bracelet engraved with my son's name after I gave birth. It was such a special thoughtful gift and something that I still treasure and wear years (and two more children) later!" Mum-of-one, Louise shares her favourite gift.
What we love about this sterling silver bracelet is that it's great value and great quality from Thomas Sabo. Plus the middle of the bracelet can be individually engraved with symbols, numbers or letters. So you can engrave the baby's name, initials, date of birth and more.
VIEW AT THOMAS SABO | £59 (opens in new tab)
9. Oh Mumma - Just For Mum Pamper Box
Oh Mumma, created by two mums, for mums is an award-winning box subscription. It makes self-care a little more simple for new mum, available at JoJo as a one-off purchase. Give the gift of 'me-time' moments wit this Just for Mum Box. Inside is an edit of luxe beauty and lifestyle products curated to make little moments of self-care enjoyable and super easy - even on the go, which all mums always are.
VIEW AT JOJO MAMAN BEBE | £36 (opens in new tab)
10. Aden + Anais Essentials Muslin Swaddle Blankets
Mum-of-two Jasmine tells us how these were a luxury item for her. "Getting a pack of these swaddles just before I gave birth was so useful. They were a welcome gift because I had them saved in my Amazon basket for when I could afford them and so being gifted them meant it was one less thing to get!"
As gifts for new mums go we love aden + anais swaddles. They're 100% cotton muslins and their quality and size is a cut above the rest. Our go-to swaddles, these muslins also come in an array of different colours and patterns, including a cute Disney themed range (opens in new tab).
VIEW AT AMAZON | £16 (opens in new tab)
11. Pixi DetoxifEYE Eye Masks
When it comes to choosing gifts for new mums it's worth remembering that they are sleep-deprived. And this sleep deprivation means they survive on the basics. Self-care bumps down that 'basics' list.
So make it easy for her with these non-sticky, easy to apply, ultra-reviving eye masks. She will thank you for it.
These Pixi hydrogel eye patches are designed to instantly de-puff and revive the under-eye area. Infused with coconut and cucumber, and enhanced with Hyaluronic acid and a caffeinated these are the promised land of feeling and looking fresher. Even after four hours broken sleep. They come in a little pot with a stack of 60 patches, that's 30 pairs with a spatula to separate when getting them out.
VIEW AT BOOTS | £22 (opens in new tab)