Running with a pram: 5 tips from the experts who do it on a regular basis
Running with a pram isn't as daunting as it sounds – these expert tips will guide you through best practice for exercising with your child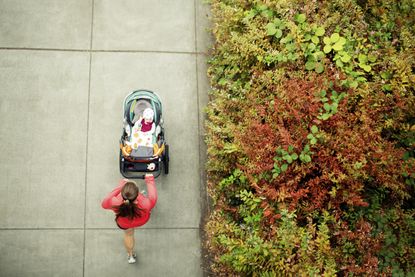 (Image credit: Getty Images)
Running with a pram is a great way to gain a sense of doing something for yourself after having a little one.
But before we fill you in on everything there is to know about running with a pram, we want to reassure you that taking up exercise after having a baby is different for every person and it's always best to seek medical advice before getting started with running.
There's so much to think about when you become a new parent, from searching high and low for the best pushchairs to navigating the child development stages, so we'd encourage you to take postnatal exercise at your own pace – simply starting out with a small walk or lacing up your trainers is worth celebrating.
Now we've cleared that up, let's get down to expert know-how. All parents know that when babies are added to the equation, getting them from A to B takes careful planning – and the same applies to running with a pram.
We asked two fitness experts for their best tips on running with a pram and what to look for if you're in the market for a new buggy to use while exercising.
Disclaimer
After having a baby, remember to consult with your GP or doctor before you start doing exercise again.
Running with a pram tips
Claire Gleave, founder of maternity and breastfeeding sportswear brand Natal Active, has 20 years of experience running and training with a club.
She shares her best running with a pram tips to guide you every step of the way.
Claire Gleave is the founder of maternity activewear brand Natal Active, and a seasoned marathon and buggy runner. She's completed 13 marathons, numerous half marathons and an ultra (running through three pregnancies) she covered many miles and races with her babies in a buggy.
Claire founded Natal Active in 2020 after becoming frustrated at the lack of maternity options for her to wear when running in her pregnancies and then later when she was breastfeeding. Her collection of leggings, nursing sports bras and nursing tops can all be worn throughout pregnancy and while breastfeeding.
1. Always lock the front wheel
It may seem a bit awkward when you first start running with a buggy, but Claire says the reasons for this are three-fold: "If you were to hit a pothole or a stone with the front wheel unlocked, it can cause the buggy to wobble and tip.
"Likewise, if you're running downhill, it wouldn't take much for the wheel to spin causing an accident.
"Lastly, the locking of the front wheel gives you a lot more stability on both uneven surfaces in the event of you encountering something unexpected on the floor en route," she notes.
2. Always strap your wrist to the buggy
You wouldn't run without your baby strapped in – and ensuring that you're attached to the buggy is going to add that extra element of safety.
"[A wrist strap] is essential in preventing your baby going anywhere without you and gives you much more control in the event of an accident," Claire explains.
Plus, it also gives you the security to push with one hand while swinging your free arm to help propel you forward, she adds.

LittleLife Universal Buggy Zubehör - £7.99 at Amazon
While our Deputy Editor would recommend that you choose a buggy that's specifically for running (and will therefore usually include a wrist strap), it might not be realistic to purchase another pram if you already have one.
This universal buggy wrist strap is an Amazon best-seller and can be used on all prams. It's easy to fasten, and is made from a soft and comfortable fabric to prevent rubbing.
3. Find a safe route
Depending on where you live, access to a suitable running route with a buggy can be hard to find – here's what to look for.
"Ideally, you want a nice clear concrete path for ease of pushing as well as safety," says Claire.
"Try to avoid long stretches of running near busy roads if you can as this isn't so nice for your baby, and also avoid country lanes if you live outside of the city, where cars can unexpectedly come flying past."
Big parks are ideal for running with a pram because their routes are usually flat with a wide path. And if you're not sure if a route will be suitable, do a slow walking test ride so you can see.
It's worth having a little bell on the buggy to let people know you are coming, adds Claire.
4. Time your runs with their naps
Sure, some days the thought of getting dressed is too exhausting, but on the days you have more energy, going for a run while your baby naps is a good way for you to make the most of their routine.
"The fresh air will often send the most ardent nap refuser off to sleep and it's a great way for you to get a bit of headspace to listen to a podcast or your favourite music, uninterrupted," says Claire.
5. Be aware of the weather
Any kind of exercise – whether you're running with a pram or walking for weight loss – is bound to make you want to take off your layers, it's important to remember that your baby isn't doing anything other than sitting there, Claire points out.
"Always make sure they're wrapped up – a great investment is something like a sheepskin footmuff which allows you to not have to layer up your baby too heavily, and have the added benefit of being able to remove the top layer so your baby can just lie on the bottom layer on warmer days, keeping them cool and comfortable," she suggests.
On sunny days, always make sure your baby has a cap and sunscreen on, and if they're a bit older, you could consider getting them a little pair of the best kids' sunglasses too, Claire adds.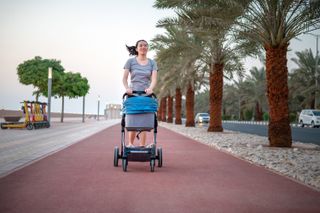 Is it hard to run with a pram?
It's a hard yes from Claire. She said it's physically more difficult to run with your baby in a buggy, but doing so is great for your fitness.
"Firstly, you're running at a slightly unnatural stance – you can't use your arms to help propel you forward – and then there's the additional weight [of your baby and buggy] that mimics the equivalent of an uphill run in terms of effort."
So don't forget to get adequate rest when building your fitness back up. You could even indulge in these tried-and-tested self-care ideas for some 'you time'.
When can you run with a baby in a running pram?
Before you start exercising after giving birth, you should seek advice from your doctor or midwife, but more specifically, Claire says that it's generally best to wait until your baby is at least six months old as they'll have more control of their head at this age.
"Even with the best suspension, they will get bounced around, so head and neck control are important," she reiterates.
A word of warning, too: "Don't ever be tempted to run with your baby in an attached car seat thinking this keeps them safer," Claire says.
"While they are crash safe for cars, they sit high and heavy on a pushchair, changing the centre of gravity in your buggy and making tipping more likely."
To take running with a pram to the next level, a buggy-friendly race like Parkrun might scratch that competitive itch – and Claire says you're likely to see other pushchair runners there too.
"If you're running in a race with others, be especially mindful of the length of your pushchair – it can be all too easy to take out people's ankles when the pack is dense if you aren't careful," she adds.
Which prams are good for running?
If you're taking running with a pram seriously, and you have the budget, investing in a new buggy is your best bet.
Claire ran with her babies using the Bugaboo Runner but we checked and this has now been discontinued. Her other alternatives?
"The Out n About Nipper Sport is excellent value, while the Thule Glide is a pricier but a fantastic piece of kit.
"For a more flexible option, Cybex does a four-in-one multisport trailer that you can use for so much more than just running," Claire suggests.
This running pram is popular with the experts at Goodto – check out our Cybex Zeno pushchair review to help you decide whether it's a good fit for you and your baby.
"It's worth remembering that running buggies tend to hold their value well, so you would get a good price when selling it on later," says Claire.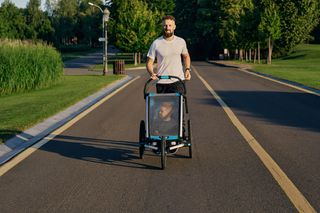 Fitness professional and Co-founder of Cafe Volonte, Haylene Ryan Causer, says there are a few factors to consider when shopping for a running pram.
Work your way from the bottom to the top: "Three-wheel jogging prams are better designed for running, with one wheel at the front to allow better manoeuvre ability," states Haylene.
That's because the wheels are air-filled which allows for better shock absorption and a more comfortable ride for your baby.
The same goes if you're looking for the best travel strollers to take on holiday. Bigger and thicker wheels are a must if you're planning on heading to the beach and other off-road use.
You'll want to have your hands free in case of emergencies too, Haylene says. "Hand braking will allow you to be prepared to stop and attend to your child's needs." Having control of a hand brake is more efficient than a foot brake, she adds.
On a practical level, good zippable storage compartments will come in handy when jogging as you don't want to have any trip hazards for yourself and others, Haylene says.
The final word? Once you have the practicalities of how to ensure your baby is safe and comfortable, Haylene has one last piece of advice on your running technique: "Maintain good posture while running," she instructs.
"Don't slouch over the pram with the pram or push too far ahead, as this will put a lot of unnecessary pressure on the lower back. Keep it close with softly bent elbows, handles sitting around the height of the belly button."
Haylene Ryan Causer is a sprinter, Olympic weightlifter, mother and co-founder of London wellness brand Volonté. With a belief that optimum wellbeing is achieved through a life of abundance rather than restriction, Haylene qualified as a trainer in 1999 with HFPA in South Africa before going on to complete her CrossFit level 1 and Olympic weightlifting level 1 in 2014. Additionally, Haylene has completed many other courses such as pre and post and natal, functional training, suspension training and aerobics.
Today she supports the individuals she trains with workouts that are tailored exclusively towards heart health, strength, and mobility to support a positive lifestyle.
Now you're armed with the best tips for running with a pram – as well as what to look for when buying a buggy to run with – you might be interested in getting the best baby walkers so your little one can have a go at pushing too! And, you can believe the hype around the Graco SlimFit Combination car seat review. Find out why we've called it "one of our best buys".