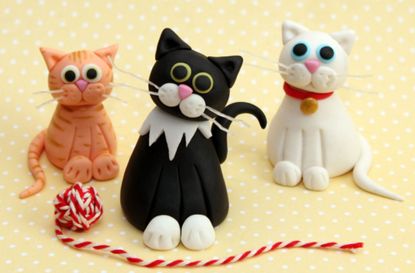 (Image credit: Future)
This recipe makes one 3 inch tall fondant cat, ideal to decorate cakes or cupcakes. With their inquisitive expressions and cute whiskers, these little cake toppers make perfect party decorations for kids' birthdays or novelty bakes.
Experiment with the colours to suit whatever you're making and just remember to increase the quantities of icing if you want to make more than one.
Ingredients
65g black fondant
5g white fondant
1g pink fondant
1g green fondant
Chinese clear noodles
Edible gold and caramel food colouring
White alcohol
Strand of dried spaghetti
Step 1
Using 40g of black fondant, mould a pear shape and push a piece of spaghetti into the centre as a support for the head. Roll a 20g ball of black fondant into a sphere, for the head.



Step 2
Using the vein tool or cocktail stick, draw legs onto the front of the body. Roll 2 small balls of fondant for the paws and draw toes by adding 3 lines into the front of the feet.

For the tail, roll a long thin sausage shape and taper the end to a point for the tail. Using a brush of water, stick it onto the back of the body, curling it up to rest into a curl on a pot, or something similar, until the tail has dried in place.



Step 3
For the cheeks, roll 2 small balls of white fondant and squash flat with the tip of your finger and do the same with the coloured fondant for the eyes. Repeat with smaller dots of black fondant for the pupils.

For the bib, roll a piece of white fondant and cut triangles out for the fur. Cut a small triangle from the pink fondant for the nose.



Step 4
Stick the cut fondant around the neck with a brush of water.



Step 5
Stick the eyes, cheeks and the nose. Add 2 small black triangles for the ears; you can use the vein tool or cocktail stick to make the earholes. Cut short lengths of the Chinese noodles for the whiskers and poke them into the cheeks. You can emboss a few dots to add texture too.



Step 6
If you decide to make a different colour, you can use food colour and white alcohol to paint faint stripes with a fine paint brush.



Step 7
You can also make collars by cutting strips of fondant and adding discs, painted gold and sticking it around the neck of the cat.



Step 8
Add the finished toppers to your cakes.