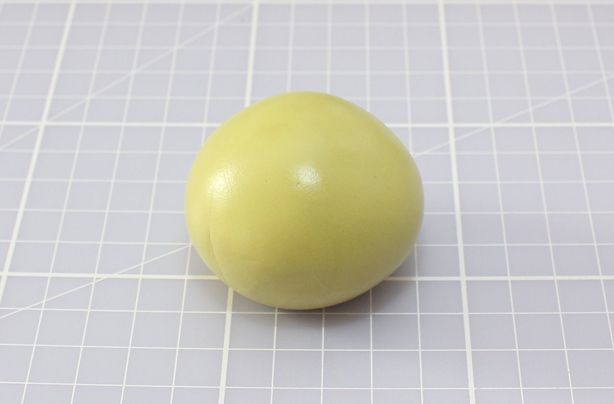 These little dinosaurs are the perfect birthday cake topper for a little boy or girl who loves adventures. With just seven easy steps, these characters can be made in no time at all.
Change the size of your dinosaurs depending on how big your cake is, or even make mini ones for cupcakes- the choice is yours. All we know is that whoever you make these for they'll be pretty pleased with you.
Ingredients
100g white modelling paste
40g ready to roll fondant
2g blue modelling paste
2g pink modelling paste
Black ball sprinkle nonpareil
Green food colouring
Step 1
Mix the ready to roll fondant and the white modelling paste together, colour green and roll 70g into a ball.



Step 2
Pinch and gently pull one side of the ball of paste to make a tail. You can smooth any lines with the tips of your fingers.



Step 3
For the head, roll 10g of paste into a sausage shape and trim the bottom diagonally so it fits neatly onto the body.



Step 4
Stick the neck onto the body, smoothing the edges with the tips of your fingers and bend the top over slightly. If the neck doesn't hold on its own, rest it on something (like the food colour pot) to hold it in position until it dries.



Step 5
For the legs roll 12g of paste into a sausage shape and cut 4 legs to about 2cm each. Using the plain piping nozzle, emboss the feet with half circle shapes.



Step 6
Stick the legs to the bottom of the body with a brush of water. Emboss a smile with the smile tool or cocktail stick and add nostril with the small ball tool or cocktail stick.



Step 7
To add the dots, roll tiny balls of coloured paste and push them flat with your finger, then with a brush of water, stick them to the body and head.



Step 8
Repeat to make a smaller dinosaur. Place the finished decorations on your cake.



Victoria Threader is 'the queen of cupcakes' and a contributing Recipe Writer at GoodTo. Not only can she bake delicious cupcakes, she can decorate them too - with each of Victoria's cupcakes topped with handmade edible toppers. Some of her most popular cupcakes include: rainbow cupcakes, hidden shape cupcakes and even giant cupcakes.