Easter basket cake decorations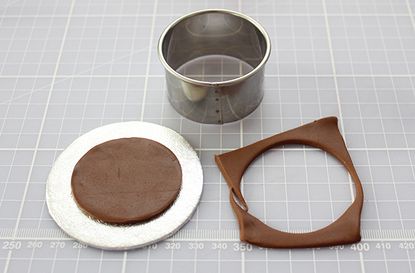 GoodTo newsletter
Sign up to the GoodTo Newsletter. You can unsubscribe at any time. For more information about how to do this, and how we hold your data, please see our privacy policy
Thank you for signing up to . You will receive a verification email shortly.
There was a problem. Please refresh the page and try again.
How clever are these Easter basket cake decorations? They're much easier to make than you may think using only a handful of chocolate or brown fondant to make the baskets.
Fill with your favourite Easter-themed treats and pop on top of a large cake or serve as it is.
This recipe covers one cupcake but you can cover more or less by adjusting the qualities. If making a large cake you can use small balls of cake or Rice Krispie squares to make smaller baskets.
Ingredients
For this Easter recipe (opens in new tab) you will need:
1 cupcake
1tbsp buttercream
80g chocolate or brown fondant
Various eggs, flowers etc. to decorate
Step 1
Roll the brown fondant out to 2mm thick and cut a 5cm circle. Pop onto a greased 7cm cake board as its easier to move the basket around when decorating it.


Step 2
Cover the cupcake in a thin layer of buttercream and stick it to the top of the fondant disc.


Step 3
Roll the brown fondant into a thick sausage and cut equal sections with a sharp knife. This makes the basket weaves the same size.


Step 4
For the basket roll long thin sausages and holding 2 sausages together at one end twist at the other, until the twist are even all the way along. You'll need the twist to be about 15cm long to go all the way around the cupcake.


Step 5
Wrap the twists around the cupcake.
Step 6
Completely cover the cupcake adding an extra twist to the top so you can fill the basket.
Step 7
To make the handle, make a slightly thicker twist and bend it over to make an arch. Break a cocktail stick in half and carefully push the broken end into the end of the twists and leave to dry for a couple of hours.


Step 8
Fill the basket with chocolate eggs, flowers etc.


Step 9
When the handle is dry, add it to the cupcake by gently pushing the cocktail sticks into the sides of the cupcake. If the handle is still a little unstable you can hold it up by using small tubs until the handle is completely dry.

Remember to remove the cocktail sticks before eating.


Step 10
Add the topper to your cake or eat as is.


Victoria Threader is 'the queen of cupcakes' and a contributing Recipe Writer at GoodTo. Not only can she bake delicious cupcakes, she can decorate them too - with each of Victoria's cupcakes topped with handmade edible toppers. Some of her most popular cupcakes include: rainbow cupcakes, hidden shape cupcakes and even giant cupcakes.