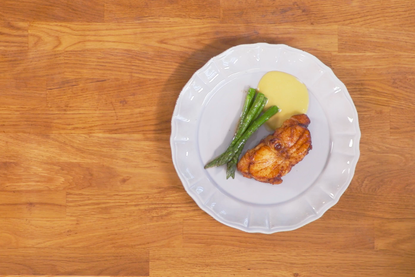 Wondering how to cook monkfish in the best way? We asked chef Chantelle Nicholson from Tredwells restaurant in London to show us her favourite technique for serving this gorgeous fish (opens in new tab). Chantelle has a simple approach to cooking, letting the quality of the ingredients really shine, and her monkfish recipe is no different. In the video below she shows how to cook monkfish simply in butter and she serves it with a delicious aioli and some beautiful fresh asparagus. This recipe only serves one, but the aioli will make a lot more than one portion - it will keep in the fridge for a few days and is delicious with chips or any other fish you might want to cook.
Ingredients
1 portion monkfish, on the bone
20g rock salt
25g unsalted butter
4 spears asparagus
For the aioli:
125g pasteurised egg yolks
1 clove garlic, microplaned
1 teaspoon dijon mustard
2 tablespoons white wine vinegar
350g pomace oil
80g extra virgin olive oil
2 anchovies
2 tablespoons anchovy sauce
salt to taste
Step 1
For the aioli, using a stick blender, blend the yolks, garlic, mustard, vinegar & anchovies together until combined and pale. Slowly drizzle in the oils, little by little, whisking continuously until fully mixed. Finish with the anchovy sauce and adjust seasoning if necessary.
Step 2
Preheat the oven to 180C Gas Mark 4 for the monkfish. Cover the fish in the rocksalt and leave for 10 minutes. Rinse off and pat dry. Heat the butter in a heavy based frying pan until bubbling. Add the monkfish and cook slowly until golden brown. After 3-4 minutes, flip over and baste with the hot butter for another 3-4 minutes. Place in the oven for 3-5 minutes until cooked through.
Step 3
Blanch the asparagus in salted water for 2 minutes. Brush with the monkfish butter and serve with the aioli and monkfish.
How to cook monkfish
How to cook monkfish