How to make a vegetarian Juicy Lucy burger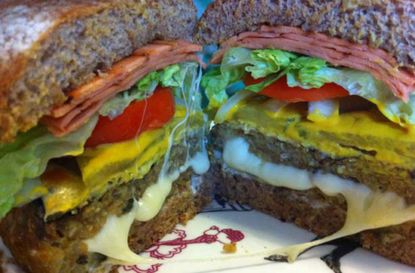 (Image credit: Future)
Veggies don't need to miss out on the brilliance that is a Juicy Lucy burger - a burger that has cheese sandwiched into the patty.
Two bars in Minneapolis both claim to have invented the meat version of this extra special cheeseburger and to whichever one is telling the truth, we are truly grateful. But we've updated the Juicy Lucy recipe to mean that everyone can enjoy its cheesy brilliance, regardless of your eating habits.
Our step-by-step guide shows you how to make the veggie burger to champion all others - the incredible vegetarian Juicy Lucy. Just watch out that when you take that first bite, the molten cheese doesn't give you a nasty burn. Other than that, leave us a comment to let us know how you got on. We challenge any veggie not to enjoy this burger!
Ingredients
1 package extra-firm tofu
6 baby potatoes
60g flour
60g sesame seeds
60g pumpkin seeds
2 cloves garlic
2 tbsp soy sauce
1 tsp curry powder
1 tst cumin powder
1 tsp garlic powder
Leerdamer cheese slices
Veggie bacon (optional)
Ketchup and mustard
Salad
Burger buns
Step 1
Mix all the dry ingredients together in a large bowl.
Step 2
Blend the tofu, potatoes, soy sauce and garlic in a food processor until they form a thick paste. Mix this with the dry ingredients until well combined.
Step 3
Make a patty and lay some slices of cheese in the centre.
Step 4
Cover this with another patty and fork down the edges to keep the cheese inside when it cooks.
Step 5
Griddle or fry until golden brown.If you fancy it, add another slice of cheese to the top of the burger and grill until melted.
Step 6
Serve in large burger buns with salad, veggie bacon and condiments of your choice (we used lettuce, pickled cucumbers and tomatoes).