Can YOU spot the 11 child safety hazards in this new viral picture?
In just five seconds...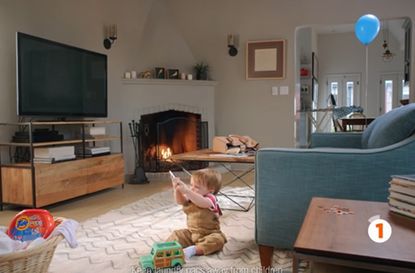 Could you spot all the potential safety hazards in this picture?
A new video has gone viral after alerting parents to the everyday dangers that are in their home. Viewers are given just five seconds to spot all 11 potentially harmful things in an average living room. The video estimates that five seconds would be all it would take for the baby featured to crawl over to any one of the things that could put their health at risk.
Can you spot all 11 dangers in the picture?
The video highlights some obvious dangers, along with some we didn't spot immediately. Created by laundry brand Tide, the advert hopes to educate families on the importance of keeping little ones away from laundry detergents and products.
Dangers include the television, an unattended iron, the open fire and a blind cord, along with the laundry detergent and some loose change – which could be a potential choking hazard. Other less obvious hazards include a partially hidden mirror and a balloon.
The wording on the video says, 'Keep laundry pacs away from children. Keep them up. Keep them closed. Keep them safe.'
The video, which was only posted two days ago, has already had nearly 150K views. The Facebook post of the video has also gathered significant interaction, with plenty of parents commenting on it.
http://www.youtube.com/watch?v=LtWSpGbh7AI
One user Jennifer Nicole Snyder explained that she always keeps her detergent products out of the reach of her family, saying, 'mine are in the garage up on a shelf and I explained to my mobile 4 year old they were soap not food.'
The moral of the story? You can never been to careful when it comes to children's safety. Make sure to keep all cleaning products locked up and out of sight to prevent any unnecessary accidents.
Rosie is an experienced food and drinks journalist who has spent over a decade writing about restaurants, cookery, and foodie products. Previously Content Editor at Goodto.com and Digital Food Editor on Woman&Home, Rosie is well used to covering everything from food news through to taste tests. Now, as well as heading up the team at SquareMeal - the UK's leading guide to restaurants and bars - she also runs a wedding floristry business in Scotland called Lavender and Rose.