A nappy myth solved: Mum shocked after learning what the + sign on nappies really means
One mother has revealed the real reason behind the + sign on nappies - and it's not what you'd think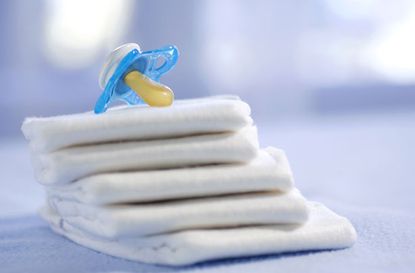 One parent has revealed her shock at finding out the truth behind the size of nappies - and it seems many other parents were as oblivious as her about the truth.
Nicci Pearce posted a comment on Facebook about the nappies she had been using for her two children asking what parents thought the plus symbol on the nappies meant. Nicci, like many parents who commented on her post, thought it meant a 'half size' - so used it while her children were between ages.
Nicci, mum to a two-year-old and a nine-month-old, told the Manchester Evening News: 'Ava is toilet training now, but all the time she's been in nappies I've always gone up 3, then 3+, then 4, then 4+ then 5 and so on.'
Nicci then revealed that she has found out the real reason behind the plus sign - it's an indicator of added absorbency not size. 'Who knew this? I always thought the plus ones went up higher on the back,' she said.
Plus signs on nappies are there to help with absorbency, especially when children nappies start to leak. And this has always been the case, with most manufacturers stating this on their websites.
Tesco's Baby Club explain when you would need to give your baby or child another nappy on their website: 'When the nappy is leaking around the legs, it may be you need a higher absorbency rather than a bigger size. In this case, choose a plus-size nappy. These are the same size as a standard nappy (so 4+ is the same size as a 4), but are more absorbent, making them great for night-time use or for babies that wee more.'
In a response to a customer's complaint on its website about their child's nappy leaking, Pampers also reiterated how parents should check the size guide. 'I know leaks can be a nightmare, but usually by either changing to a different style, or to a nappy which offers a little added absorbency this can be prevented. We do offer "+" sizes too, which will offer a little added absorbency.'
However Nicci wasn't alone in her thoughts about plus size nappies, as she got a huge reaction from parents who'd always thought the same thing too, with one mum saying: 'I thought the plus sign was that the nappy was just that bit slightly bigger.'
Are you surprised or did you know always know this about nappies?
Sarah is a freelance journalist, writing for various women's magazines and national online consumer titles including the BBC and The Daily Mail, for over 10 years. Sarah has interviewed CEO's, real-life case studies and celebrities. Writing on everything from travel to fitness, and business to beauty - some of her features have been read by millions of people - in just one day.