Adele offers support to 'best friend' who suffered from postpartum psychosis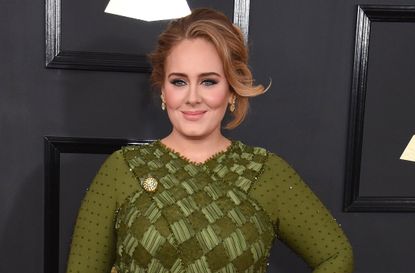 GoodTo newsletter
Sign up to the GoodTo Newsletter. You can unsubscribe at any time. For more information about how to do this, and how we hold your data, please see our privacy policy
Thank you for signing up to . You will receive a verification email shortly.
There was a problem. Please refresh the page and try again.
Adele has publicly offered her support to her best friend who opened up about her her experience with postpartum psychosis.
The singer posted a picture of her and her friend Laura Dockrill - who gave birth to a baby boy in February - to publicly speak out on her struggle with postpartum psychosis, a condition that can lead to hallucinations and confusion soon after giving birth.
She wrote alongside the snap: 'This is my best friend. We have been friends for more of our lives than we haven't. She had my beautiful godson 6 months ago and it was the biggest challenge of her life in more ways than one. She has written the most intimate, witty, heartbreaking and articulate piece about her experience of becoming a new mum and being diagnosed with postpartum psychosis. Mamas talk about how you're feeling because in some cases it could save yours or someone else's life.'
In her post about the condition, Laura described the dark period as the 'worst time' in her life, as she writes: 'It's not easy to admit that the worst time of your life was when your baby was born.'
She says the condition escalated from post natal depression and exhaustion, and describes it as feeling like she had fallen out of love with her life and included 'mania, mood swings, insomnia, delusions, paranoia, anxiety, severe depression with a lovely side order of psychosis'.
What it's really like to live with postpartum psychosis (opens in new tab)
She wrote: 'I went from wanting to do everything for my little boy to completely ignoring his cries. My personal compass had gone, my maternal instinct had vanished.'
Her condition got worse as she accused her partner of kidnapping their baby, which led her to eventually be hospitalised and she had to spend two weeks away from her baby boy.
Thankfully, the mum is now recovering and is feeling more and more 'happy confident and strong', after getting undergoing psychotherapy and getting medication, as well as receiving support from her family.
Many mums commented on Adele's post to praise Laura for sharing her story, with one saying: 'Laura has put into words everything that I could not. Reading her article has made me feel less alone. Stronger. Love to Laura, Hugo and baby boy. 🌟'
Another wrote: 'Thank you to both of you for sharing this. It's a horrid thing to go through and it's great that you have the support of a great friend and family. People need to know they are not alone.'
Were you aware of postpartum psychosis? Have you or any of your friends or family members experienced it? Head over to our Facebook page and share your thoughts with us!