Alyssa Milano 'asked to be committed' to psychiatric ward over postpartum anxiety attacks
Alyssa Milano has made the heart-aching confession that she was committed to a psychiatric ward due to postpartum anxiety attacks.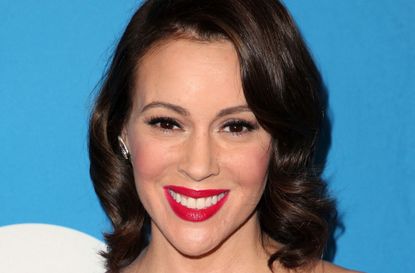 Alyssa Milano has made the heart-aching confession that she was committed to a psychiatric ward due to postpartum anxiety attacks.
The former Charmed actress admitted that she 'hit a wall' after giving birth to son, Milo in 2011, after suffering a miscarriage that same year, in an article she penned for Time magazine discussing the suffering she endured following Milo's birth.
'My Generalized Anxiety Disorder was most likely triggered by my postpartum depression, and my journey with mental illnesses began with my journey into motherhood,' the 45-year-old said.
'My miscarriage was heartbreaking, but this pregnancy was beautiful,' she added. 'I did not experience morning sickness; I went to prenatal yoga five times a week; I walked two miles a day; and I took naps in the afternoon.
'Following this idyllic image of motherhood, I wrote a strict birth plan: no induction of labour, no pain medication and no c-sections. I equated a natural birth to my value as a woman and as a mother — and I was determined not to stray from that course.'
However, complications during labour meant Alyssa was forced to deliver by C-section, which left her feeling like she had already 'failed as a mother'.
She continued: 'That first night, after we returned from the hospital, I suffered my first anxiety attack,' she recalled. 'I felt like I had already disappointed my child. I felt like I failed as a mother, since I was not able to give birth vaginally or nourish him with the breast milk that had not come in yet.
'My heart raced. My stomach seized up. I felt like I was dying.'
Alyssa revealed that her anxiety skyrocketed after she began work on a new show, which meant she spent most of her days away from Milo.
'As we began filming, my anxiety worsened. I began to develop irrational and obsessive fears,' she wrote. 'Like many working mums, I was overwhelmed by guilt for leaving my son during work hours, and like many others who suffer from anxiety, my pain was not taken seriously.
'Every day, I would drive to work and think about all the ways that Milo could die in the hands of his caretakers. Every night, after working 16-hour days, after I was finally able to hold my child and put him to sleep, my day's anxiety would culminate into a debilitating anxiety attack.'
Alyssa's attacks continued until she found the strength to seek professional help. She revealed: 'One early morning, I went to the emergency room at 2:00 AM, asked for a psychiatrist and got help. I felt as though I had no choice: I asked to be committed; I stayed in a public psychiatric ward for three days.
'At last, I began to feel as if my pain was recognised, but it wasn't easy. One of my doctors dismissed my symptoms, and many of my colleagues, even female colleagues, still had trouble understanding that I was hurting at all.
'But throughout this process, I also found angels — including my psychiatrist and my therapist. They convinced me that I had the bravery to face my illness, the value to seek help and the strength to recover.'
A Freelance Writer and Content Editor, Jenni has been working on the women's lifestyle team at TI-Media on and off for over three years. She writes about your favourite celebrities and TV shows so you never miss an update. Jenni also writes beauty news and features - so for all of your skincare and make-up needs, drop her a line.