Mum uses toothpaste to teach her daughter a life lesson about 'the weight her words carry'
'You will remember this plate of toothpaste for the rest of your life.'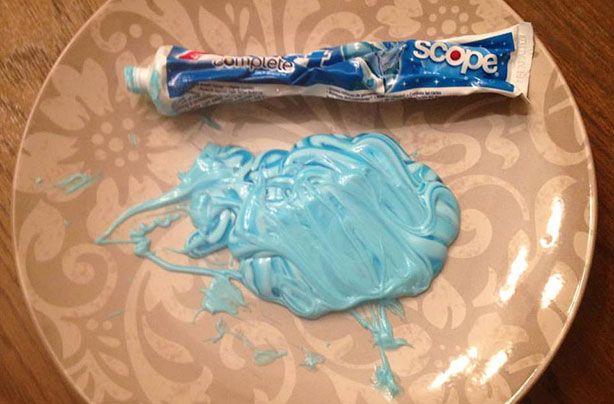 A mum's Instagram post has gone viral after teaching her daughter a valuable life lesson - with a tube of toothpaste.
Amy Beth Gardner, from Cleveland, Tennessee, sat her daughter Breonna down on the night before she started middle school with a plate and the tube of paste, and asked her to squeeze out all of the contents.
'When she finished, I calmly asked her to put all the toothpaste back in the tube. She began exclaiming things like "But I can't!" and "It won't be like it was before!"', Amy explained the caption alongside the image, which she later cross-posted to her Facebook page.
'I quietly waited for her to finish and then said the following: "You will remember this plate of toothpaste for the rest of your life. Your words have the power of life or death. As you go into middle school, you are about to see just how much weight your words carry.'
'You are going to have the opportunity to use your words to hurt, demean, slander and wound others. You are also going to have the opportunity to use your words to heal, encourage, inspire and love others.'
https://www.facebook.com/photo.php?fbid=10100531088756336&set=p.10100531088756336&type=3&theater
'You will occasionally make the wrong choice; I can think of three times this week I have used my own words carelessly and caused harm. Just like this toothpaste, once the words leave your mouth, you can't take them back.'
Advising her daughter to 'use her words carefully', she added, 'Decide tonight that you are going to be a life-giver in middle school. Be known for your gentleness and compassion. Use your life to give life to a world that so desperately needs it. You will never, ever regret choosing kindness.'
Since Amy uploaded her picture of the toothpaste on Facebook, it has been shared almost 500,000 times, and received 400,000 likes, with thousands of commenters praising the idea.
'Very well said. Everyone should use this example, not only for their children but for themselves,' one said, whilst another added, 'This is a great reminder to adults as well!'
Trusted, informative, and empathetic – GoodTo is the ultimate online destination for mums. Established in 2007, our 15-year-strong archive of content includes more than 18,000 articles, 1,500 how-to videos, and 7,000 recipes.