'I was in such a panic' Pregnant Amy Childs suffers fall weeks before she's due to welcome her first child
She's covered in 'cuts and bruises'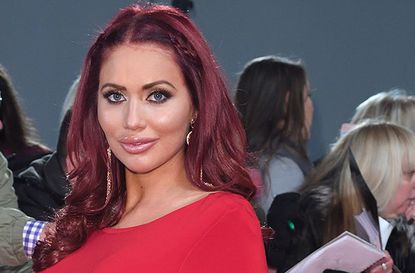 GoodTo newsletter
Sign up to the GoodTo Newsletter. You can unsubscribe at any time. For more information about how to do this, and how we hold your data, please see our privacy policy
Thank you for signing up to . You will receive a verification email shortly.
There was a problem. Please refresh the page and try again.
Amy Childs, who is expecting her first child (opens in new tab)
with her partner Bradley Wright, has revealed she suffered a traumatic fall at home.
The reality TV star shared the scary story with new! magazine, explaining how she tripped over her stair gate and is now covered in 'cuts and bruises'.
Amy, who's 38 weeks pregnant, suffered the fall last week as she's waiting to welcome her baby girl.
'Last week, I tripped and fell over the stair gate, which I have for my dog. I lost four toenails and was covered in cuts and bruises', she wrote in her column for the publication.
She recently revealed she wants to have a pain-free hypnobirth (opens in new tab)
The 26-year-old also admitted to have been in a panic after it happened, but she thankfully fell on her side and not her heavily pregnant bump.
'OMG, I was in such a panic! I called my midwife but all was OK as I fell on to my side and not my belly.
'Then my princess was kicking away, so I knew she was fine, but I was in so much shock I burst into tears.'
As well as the fall, Amy also said she thought she was going into labour recently, after experiencing a false alarm.
'I had cramps and pains and my belly was tightening', she wrote.
'I woke Brad up and said 'she's coming'. I told him to get the car ready. But then I gave myself a little moment and realised the pains weren't regular – it was Braxton Hicks again.'
Amy revealed she was having a little girl last month, just a few weeks before she is due to welcome her first child.
She shared the news with OK! magazine, saying: 'Me, Brad, my mum and Auntie Karen were all there for the scan. I was in so much shock I walked out of the room and didn't even say goodbye to the nurse. Brad is very quiet so he wouldn't get emotional, but we were all so excited. I'm having a mini Amy!'
She has previously admitted on Loose Women that she thought she was having a baby boy, after being told she was by five psychics.
'I thought I was having a boy. Five psychics told me. Then I went for four scans and it is definitely a girl.'