'It just didn't work for me' Amy Childs opens up about not being able to breastfeed daughter Polly
'I just wish I had listened to mum.'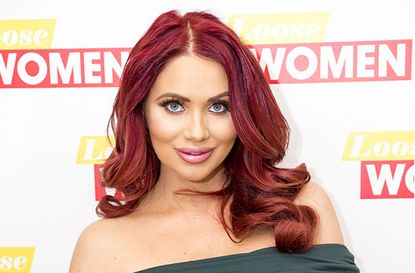 Amy Childs has revealed she has not been able to breastfeed her daughter Polly.
The former TOWIE star told OK! magazine that despite being told that she would be able to breastfeed after having implants, Polly hasn't taken to breastfeeding.
Amy explained that she tried to breastfeed 'straight away', but unfortunately her little girl 'wasn't latching on'.
'I stayed in hospital the next day and they told me I needed nipple shield, as I have inverted nipples. She latched on but wasn't really getting anything from it, just a little colostrum. The milk wasn't coming', the new mum said.
Amy still gave it a few more tries but eventually had to give up: 'I had a few days but by the end of the first week I thought, this isn't going to happen. The midwife said to do a little bit of bottle and breast, but Polly wasn't going near the breast. I gave it 150 per cent, but it just didn't work for me.
'I wanted to breastfeed, but things don't always go to plan. But look at her! She's getting lots of milk.'
Amy, who had breast augmentation surgery when she was younger, asked for professional advice on whether or not she could breastfeed before giving birth.
'I saw a specialist when I was four months pregnant and she said I could breastfeed with implants. I've seen three health visitors now and they've all said that it sometimes works and sometimes doesn't.'
Amy has previously said she regrets her choice of getting breast implants now that's she's starting a family. Speaking previously to The Mirror, Amy said, 'I'd love to breastfeed but I may not be able to. I wish I'd had none of it done.'
The 26-year-old admitted she wishes she had 'listened to mum' and not had plastic surgery herself.
She also said on Loose Women that she won't be letting her daughter follow her footsteps when it comes to surgically changing her looks.
Appearing on the ITV show, Amy was asked by the panel about having 'a little Amy', and how she would feel if her daughter went under the knife.
Saying, 'she's not allowed to have cosmetic surgery', the model made her thoughts on the subject very clear.
She remembered how her own mother had tried to warn her against having her breasts enlarged in the past.
'Mum told me and sat me down - she didn't want me to have my boobs done or anything.'
'I just wish I had listened to mum.'
Amy continued to admit that some of her procedures had become 'botched'.
'My lips were really bad, but that was me being obsessed. I see what I put my mum through, that's what I always say, but look we all make mistakes don't we.'
At 18 years old Amy went under the knife to enlarge her breasts from an AA cup to a 30EE. Four years later, at 22, Amy went through more surgery to have a breast lift and place her breasts higher on her body.
Admitting that she felt too young to make such a huge decision about her body at 18, the mum-of-one confirmed that she couldn't see herself having surgery again - particularly because of the painful side effects her breasts have on her back.
'I don't think I'll want to be having surgery when I have children. I don't want any more surgery. I went under the knife when I was 18 and that was too young. I wish I'd had none of it because I get backache, my boobs and my nipples are so sore.'
Trusted, informative, and empathetic – GoodTo is the ultimate online destination for mums. Established in 2007, our 15-year-strong archive of content includes more than 18,000 articles, 1,500 how-to videos, and 7,000 recipes.