The hidden danger hiding in your home: Do YOU know how to anchor your furniture?
Properly securing your furniture could save your child's life...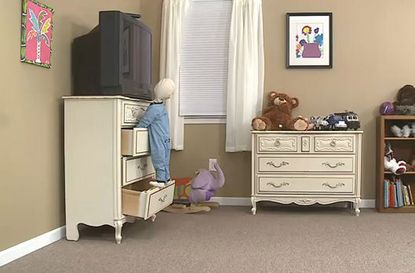 Goodto Newsletter
Parenting advice, hot topics, best buys and family finance tips delivered straight to your inbox.
Thank you for signing up to GoodTo. You will receive a verification email shortly.
There was a problem. Please refresh the page and try again.
You might think that your chest of drawers or wardrobe is far too heavy to knock over and hurt your child.
However, not securing your furniture properly can seriously harm your little ones and even have fatal consequences. One mum and dad shared a terrifying video of their toddler saving his brother after he was trapped under an unsecured chest of drawers.
And it's not the first example we've seen of what happens when furniture is not secured properly. IKEA was forced to recall 29 million MALM chests of drawers after three children were crushed by the product in recent years.
In 2015, the US consumer product safety commission released a warning to parents using IKEA MALM furniture in their children's bedrooms after two children were killed by falling furniture the previous year.
A two-year-old boy from West Chester, Pennsylvania, died in February 2014 after a six-drawer MALM chest fell on him and pinned him to a bed, the statement said.
Similarly, a 23-month-old child from Snohomish, Washington, suffered the same fate in June 2014 when a three-drawer MALM chest tipped over and trapped him underneath.
However, while initial advice was to use wall mounts, a third death in 2016 prompted the Swedish brand to issue a full recall of any children's chest of drawers higher than 23.5 inches (60 cm) and adult chests of drawers and dressers above 29.5 inches.
IKEA MALM chest of drawers come in various sizes, but should always be affixed to the wall when used in a child's bedrooms
As a result of the recall, which only applied in the US, customers were offered a refund or a free wall-anchoring repair kit, but advice is that if you own a MALM product and have not attached it to a wall, you should take it out of the reach of children.
The US Consumer Product Safety Commission added that in addition to the deaths, IKEA received reports of 41 tip-over incidents involving the MALM chests and dressers, resulting in 17 injuries to children between the ages of 19 months and 10 years old.
Do you know how to make your furniture safe?
Last year, a video released by the same body demonstrated just how easy it is for a child to come to harm simply from furniture in the home.
The eye-opening film focuses on the risk that furniture can easily topple over when just a little extra weight is applied to it. The weight, for example, of a small child.
The first scene looks like a standard family living room. There are kids' pictures on the walls and children's books on shelves. To the left of the frame is a tall chest of drawers with a TV stood on top, like you might find in any home.
The child-sized dummy is placed midway up the chest of drawers, highlighting just how easy it is for a child to open the drawers and use them to climb up the furniture. As time elapses, the chest begins to topple forwards, landing with great force on top of the child dummy, with alarming results.
The video states: 'A TV falling from an average-sized dresser can strike a child with the force of a thousand pounds.' That's around 70 stone - almost six times the weight of the average woman.
The chest of drawers crushes the dummy's body, and the large TV lands directly onto the dummy's face. Worrying? Very. Are your thoughts desperately turning to everything in your house that could now be a risk? Ours too.
Thankfully, there is a way to protect this from happening to your kids, simply by fitting some anti-tip devices. They can be bought cheaply on Amazon for TV sets and furniture, and can be fitted at home. They secure items and prevent them from coming completely away from the wall.
Watch the video below
http://www.youtube.com/watch?v=pCpE-KvDEvo
Tips to secure your furniture
The American Academy of Paediatrics offers the following advice to help keep your children safe from falling furniture:
• Keep all dressers, bookcases, entertainment units, TV stands and TVs securely anchored, normally into a wall stud. This can be done using braces, brackets, anchors or wall straps. • Keep your television on low and sturdy furniture that suitably fits the size of the TV. Don't put your television on any furniture that's not designed to hold a TV, such as dressers, as these can tip over more easily. • Push the TV back as far as possible form the front of the stand and make sure you follow the instructions provided on how to anchor it properly. • Remove items like remote controls of toys from the top of any furniture as this can encourage children to climb up to try and reach them. • Place any electrical chords out of reach and teach your children not to play with them.
Have you fixed your furniture to the wall? Let us know in the comments below
Parenting advice, hot topics, best buys and family finance tips delivered straight to your inbox.
Gemma Chandler is a lifestyle writer specialising in kids' educational media across a range of topics including nature, history, science and geography across digital, print, social media and video channels. She joined Creature & Co. at 2015, shortly becoming Digital Editor of National Geographic Kids magazine.