Mum takes to Facebook to share horrifying story of the dangers of front-facing car seats
The Australian family were involved in a serious car crash, but only their two-year-old daughter suffered life-threatening injuries because she was facing forwards...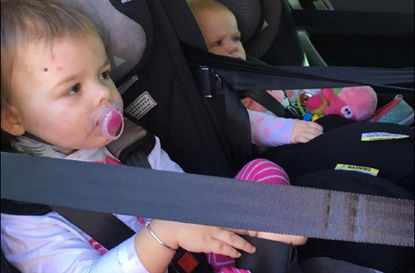 We often assume that car seats are built to protect our little ones completely, but any detail like the direction of the seat or their ability to wriggle free can dramatically change a child's safety.
Angela Brown was driving home after a dentist appointment with her daughters, aged nearly two and one, when her car swerved into a tree and flipped over completely, with the tree then falling onto the car and trapping the family inside.
Her eldest daughter was facing forwards in her car seat, and her younger child was facing backwards. The result of the crash was drastically different for both girls - the younger one got away with only a small bruise on her shoulder, but her two year old suffered a broken back in two different places and a lot of torn ligaments - an injury the doctors called 'life-threatening.'
https://www.facebook.com/photo.php?fbid=1007159499361994&set=pcb.1007159746028636&type=3&theater
She was one of the youngest children to be fitted with a Halo Brace, and her mother Angela was told by the doctor that 'most children with her injury don't make it.'
Luckily, the little girl survived and has been in recovery for three months, yet her parents 'have no idea of when she will be recovered.'
More: Everything you need to know about car seat safety (opens in new tab)
Angela took to Facebook to share her story and advise other parents about their decisions when it comes to how they place their children's car seats.
https://www.facebook.com/angela.brown.940641/posts/1007159746028636
The post has since had over 13,000 shares, with many people offering their sympathy and realising their lack of awareness.
The huge difference in her girls' conditions led Angela to think that rear-facing car seats are so much safer for little ones, despite the fact that many different laws apply to how a car seat must be placed depending on children's ages.
https://www.facebook.com/photo.php?fbid=1007159529361991&set=pcb.1007159746028636&type=3&theater
Under current UK law, parents have to have a rear-facing car seat for babies that weigh up to 9kg, which is the average size of a 9-month-old baby. After this point, you can choose to keep your child rear-facing if you wish.
However, a new EU law called the i-Size says that kids need to be in a rear-facing position until the age of at least 15 months.
In a recent safety test by the Baby Products Association, rear-facing car seats offered up to 75% more protection during a car accident. Although the recommended age is at least 15 months, there are even larger car seats on the market that seat kids up to four years old.
Whichever option you choose, within current law, always make sure the car seat is completely secured properly, and check its product guide on how to do so. Your child must also be held in the seat securely, and try and limit their accessibility to the seat belt if they are old enough to wriggle out!
Trusted, informative, and empathetic – GoodTo is the ultimate online destination for mums. Established in 2007, our 15-year-strong archive of content includes more than 18,000 articles, 1,500 how-to videos, and 7,000 recipes.