Asda withdraws Little Angels nappies after baby suffers severe 'chemical reaction'
One dad has urged other parents to return the product to the shop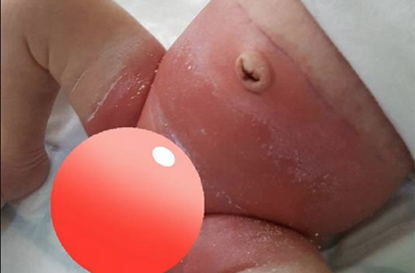 Supermarket giant ASDA has withdrawn its own brand of nappies after one dad claimed they left his son with a severe 'chemical reaction'.
Jordan Bartliff picked up his favourite brand of nappy for his newborn son, who arrived five weeks premature. Stating that it was the brand they had bought ever since the birth of their eldest child, he was horrified to discover that after a few hours wearing the product, his son had been left with an angry red rash.
'So Saturday yesterday morning has to be the worst day of our lives so far,' Jordan, who is thought to be from Doncaster, wrote in an emotional Facebook post. 'We opened a fresh pack of newborn little angels to put on the baby, we go to change the nappy an hour later, and these pictures are the results.'
'NO he's not allergic to them, that's been ruled out. It looks like a chemical reaction as been confirmed by the hospital, as he's been wearing the same nappies for 3 weeks prior to this. With no problems whatsoever.'
https://www.facebook.com/permalink.php?story_fbid=1505058142891265&id=100001612804451
Jordan said he thinks the nappy probably came from a 'bad batch', and urged other parents who have recently made the purchase to return them immediately.
He continued: 'I don't normally put personal stuff on Facebook but as it's happened to such an innocent little life at 3 weeks old the day it happened who bearing in mind is 5 weeks early, who is now needing oxygen through a machine because of this.'
'I wouldn't want it happening to any other little soul, so please be vigilant and careful with these nappies as it obviously is a bad batch. We swore by these nappies and use them with our first born before anyone starts saying their children wear these all the time so do mine.'
Jordan and his family have been inundated with messages of support, and his post has been shared nearly 30k times.
'Poor little mite, you must be so worried,' wrote one concerned commenter. 'Do get in touch with the manufacturers with the codes etc it could be they were tampered with and I'm sure as a company they will be concerned.'
'I picked some up to buy yesterday but when came to pay the till said the item has been recalled. Thank goodness, hope your baby gets well soon,' said another.
ASDA has indeed recalled the product as a precaution, and said in a statement: 'Our hearts go out to the Bartliff family and hope their baby son makes a full recovery soon. We're in touch with his dad and have collected the nappies so that we can test them along with others in the batch.'
'We take our responsibility to parents most seriously and as a precaution we have decided to remove our Little Angels newborn nappies from sale until we know why this happened.'