Ashley Banjo shares heartbreak after his childhood pet dog dies
Dancer Ashley Banjo has revealed that his beloved childhood pet dog Rocky has passed away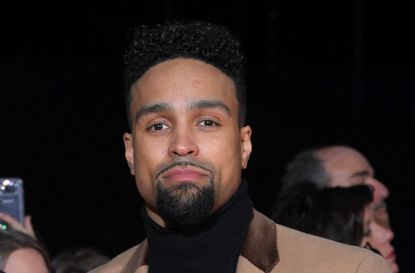 Dancer Ashley Banjo has shared the sad news that his dog has passed away - just 24 hours after he announced that he was the owner of a new Great Dane puppy.
Ashley, best known for his days as head dancer of the Britain's Got Talent dance group Diversity, told fans about his heartbreaking loss on Twitter.
He wrote: 'RIP Rocky - I didn't want today to pass without introducing you all to a very special soul. Most of you have never seen him... But he's been in my life since I was a kid and today we lost him.'
He continued: 'I wanted you all to see his handsome face! Love you and miss you already boy.'
Many of Ashely's fans and celebrity friends offered the dancer their condolences.
Celeb dad Jeff Brazier, who Ashely recently performed on stage with, wrote: 'I'm sure Rocky was an incredibly special companion for you all. Sending love to the gang.'
Another fan wrote: 'Sorry for you loss I had to have my pet of 19 years put to sleep and it is the worst pain ever. But there always in our hearts and minds forever more. Gone but never forgotten Ashley. RIP rocky x'.
The Blue Cross even reached out with some pet bereavement advice. They said: 'So sorry to hear Rocky has passed away, Ashley. He was clearly so loved. Our Pet Bereavement Support Service is here for your family if you need someone to talk to… Take care'.
The sad news will have hit Ashley hard, especially given how happy and successful the last few weeks have been.
Ashley joined a host of other male celebrities for a performance on The Real Full Monty in an attempt to raise money and awareness for a number of cancer charities including: Movember, Cancer Research and Everyman.
Ashley with his fellow celebrity performers on ITV's The Real Full Monty
Just before the loss of his childhood pet, dancer Ashely also revealed that he had welcomed a new member of the family - a Great Dane puppy.
Unveiling the new pup on Instagram, Ashley wrote: 'Meet Melvin the Great Dane Puppy at 8weeks old!'
Ashley continued: 'The newest member of the Banjo Household... @francescabanjo and I are a little bit in love already ❤️😄 I'm sure there will be a lot more pics to come, he won't be this small for long! #newpuppy #greatdane'.
Jessica currently works as a Senior Food Writer at Future. She writes food and drink-related news stories and features, curates product pages, tests, and reviews equipment, and also develops recipes that she styles on food shoots. An enthusiastic, self-taught cook Jess adores eating out and sharing great food and drink with friends and family. She has completed the Level 1 Associate course at the Academy of Cheese and is continually building on her knowledge of beers, wines, and spirits.