Babies are being wrongly diagnosed with cow's milk allergies, study finds
These figures may come as a shock...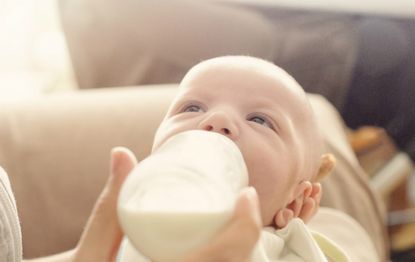 (Image credit: Miguel Sanz/Getty Images)
GoodTo newsletter
Sign up to the GoodTo Newsletter. You can unsubscribe at any time. For more information about how to do this, and how we hold your data, please see our privacy policy
Thank you for signing up to . You will receive a verification email shortly.
There was a problem. Please refresh the page and try again.
Study suggests commercial interests have led to a huge increase in specialist milk formula prescriptions.
Most infant formula is based on cow's milk - and, NHS guidelines state that parents can introduce cow's milk as a main drink for children from the age of 12 months.
Between the ages of one and two whole milk and dairy products are recommended as they contain essential calories and nutrients children may not get from lower fat alternatives.
From two upwards children can gradually make the move to semi-skimmed milk provided they have a balanced and varied diet and are growing well.
According to a new investigation however, parents may have wrongly been steered away from adding cow's milk to their baby's diet due to an 'over diagnosis' of cows' milk protein allergy.
The conclusion from the British Medical Journal (BMJ) - a renowned peer-reviewed medical journal - comes as data reveals prescriptions for specialist formula in the UK increased six-fold between 2006 and 2016.
The BMJ have warned this stark jump is unlikely to be because the number of children with cows' milk protein allergy has risen rapidly over that time.
Instead they have suggested that the rise in specialist presciptions from 105,000 to more than 600,000 a year over a 10-year period may, in part, be due to the influence of baby formula industry.
Dr Fiona Godlee, editor-in-chief of the BMJ, said: 'The growth in prevalence of cows' milk protein allergy [CMPA] has all the hallmarks of overdiagnosis fuelled by commercial interests.
'We need tighter diagnostic criteria and guidelines drawn up by experts who are free from financial conflicts of interest.'
Further figures showed that NHS spending on these specialist baby milk products had also climbed between 2006 and 2016, rising from £8.1million to more than £60million annually.
Commenting further Dr Chris van Tulleken, an infection doctor at University College London Hospital, who carried out the investigation for the BMJ, said: 'The extensive links between the formula industry and the research, guidelines, medical education, and public awareness efforts around CMPA have raised the question of industry-driven over diagnosis.'
He went on to outline that five out of the 11 authors of milk allergy guidelines drawn up by the National Institute for Health and Care Excellence (NICE) - a body providing national guidance and advice to improve health and social care - in 2011 declared links to the formula industry.
All five authors of the 2013 Milk Allergy in Primary Care guidance also had links to the industry.
In addition, international guidelines drawn up in 2007 and 2010 were funded by formula manufacturers.
Figures cited by national charity Allergy UK estimate that cow's milk allergy affects between 2 per cent and 3 per cent of infants in developed countries.
Miriam Habtesellasie is a freelance lifestyle writer who has contributed content to GoodTo, Woman&Home, Women and Idealhome.co.uk. Miriam is based in London and is a fan of everything interiors, she admits to being spoilt for choice living in the capital. From stunning architecture right the way through to eye-catching department store window displays, she believes there's always an angle to be found that can translate to our abodes.