Back to school: top tips on how to make friends for kids (and parents!)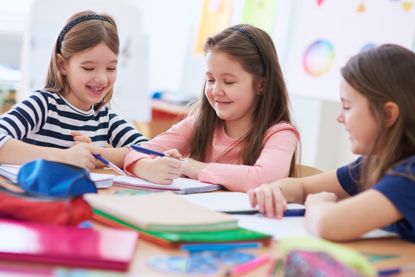 Feeling those first day nerves? Here's how to brave going back-to-school.
New research by Disney Junior has revealed the top concerns for parents and guardians who are sending their 4-or 5-year olds off to primary school.
A total of 1,000 parents were surveyed, revealing that over two thirds (69%) were feeling anxious about their child starting school in September.
Here are the top concerns for parents when their child starts school, according to their research:
Settling in (71%)
Making friends (69%)
Going to the toilet (28%)
Misbehaving (20%)
Liking their teacher (19.7%)
It's not just children that face the nerve-wracking prospect of making new friends. Parents are also worried, with around 55 per cent saying that they were anxious about making new friends among other adults.
Many parents also reported that they had lost friends as they got older, and over a third wishing that it was as easy to make friends as an adult as it is was as a child.
Sound familiar? Fortunately, worried adults and children can now consult 'How to Make Friends and Influence Five-Year-Olds', a new guide by psychologist Linda Blair, created in partnership with Disney Junior's hit animation series Vampirina, who carried out the research.
Together they've compiled this video and the tips written below for kids and parents on how to make friends at school, inspired by the themes explored in the cartoon series.
https://www.youtube.com/watch?v=aUC-iVSZsyg&feature=youtu.be
How to make friends at school: the psychologist's view
Here are Linda Blair's advice and top tips on making friends for children and adults:
'To make friends children must be able to consider life from other people's points of view so they can appreciate and react to what others want to do and enjoy', says Linda.
'Although young children show they're capable of appreciating other viewpoints, they don't normally apply this skill until they're about five years old. This is why it's important to start introducing them to this skill at a young age. Once they can understand empathy it will feel like second nature to them to behave in those adaptive ways.
For nervous parents, she added: 'It's natural for the whole family to feel nervous on your child's first day at school—and remember, other parents will be feeling nervous as well. You can help create a welcoming atmosphere by offering a genuine compliment to another parent about their child's behaviour and/or appearance.'
Top tips for kids
How can I help? If you think another child isn't sure about whether to join in with what you're doing, invite them to do something with you. Everyone likes to feel included.
Sharing is caring. When you're with your new classmates, offer to share your toys and playground equipment, so you can all play together.
Take turns. At break time, make sure everyone you're with gets to have a turn at whatever you're all doing. They'll like you for being kind.
Let's pretend. Knowing how other people are feeling will help you understand what makes other people happy. If your school has a drama club, join it, and ask to be in the school play, too, so you can learn different ways of feeling and behaving. At home, ask your family to play 'let's pretend' games with you.
Caring isn't just about people. A good way to practice helping others feel better after school is to help care for your pets. And guess what? Your pets will love you specially because of what you do!
Top tips for parents and guardians
Do as I do. During the early years, parents are the child's best role models. Be sure you show how to make friends by setting a good example, e.g. giving the people around you your full attention - listen fully whenever your child, your partner or other key people around you want to tell you something. Show you're concerned about how other people are feeling and thank others when they do things you appreciate.
Read / watch stories about sharing and making friends and talk about them afterwards. Start reading / watching these stories as early as possible - even before you think your child can understand them! Whenever you see an opportunity ask your child how a character could be feeling—and ask how they know. Disney Junior's TV show Vampirina has some fantastic episodes exploring friendship, what it takes to be a good friend, issues they may come across and how to tackle them.
Make a head start. Before your child starts a new school year, find out if you can who else will be in their class. Then invite one of those children over to play with your child during the summer holidays. That way, once school starts, your child already has a friend from the start of term. This in turn will reduce their anxiety when they go into class on that first day.
Trusted, informative, and empathetic – GoodTo is the ultimate online destination for mums. Established in 2007, our 15-year-strong archive of content includes more than 18,000 articles, 1,500 how-to videos, and 7,000 recipes.