'Banana peel challenge' craze sweeps the internet and it's as silly as it sounds
Would you give it a go?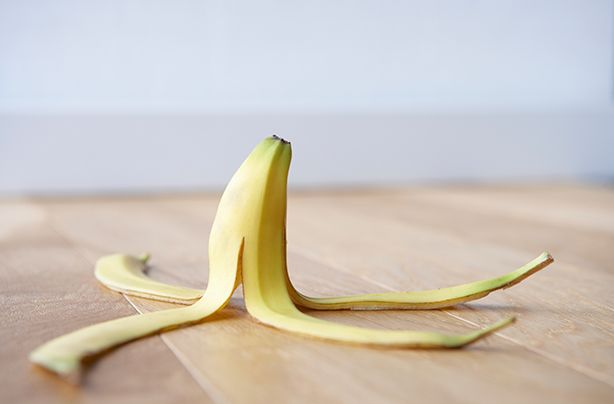 Sometimes it feels like hard work keeping up with all the new internet crazes, and quite frankly we're not sure why anyone would want to stay up to date with this latest 'challenge'.
The #bananapeelchallenge has hit social media and is actually as silly as it sounds. Teenagers all over the world are now testing how slippery banana skins are. Spoiler alert: They're slippery.
This latest strange challenge sees a banana skin laid out on the floor before being walked over by teenager testers. With what can only be described as a little extra 'creative license', the testers can then be seen flying through the air in a dramatic fashion to impress viewers.
Metro have reported that the hashtag begun after US teen Jason Oakes posted a clip of himself falling over in cartoon-style at the weekend, captioning the clip: 'Yall I tried to see if banana peels were rlly slipper like in cartoons & I slipped & tried 2 catch myself w/ a cup [sic]'.
Having a relatively modest 3000 strong following (and that's since the post!), Jason's gif seems to have blown up surprisingly since. With over 86K retweets and 90K likes it seems like Jason's light-hearted new challenge has resonated with a lot of people.
As with any fleeting fashion, past viral challenges like the 'Ice Bucket' and 'planking' challenges seem to have paved the way for new versions like this odd banana peel challenge. Although while some like the Ice Bucket Challenge were started to raise money, it seems this latest craze is just for fun. Here's just some of the other #bananapeelchallenge videos...
The loud CRASH one
The double try
[twitter]
The surprised laugher
[twitter]
Plenty of similar videos like these have surfaced of people copying Jason's original video, with the intent to make others laugh, and it is thought that this new craze could take off with potentially thousands of new clips cropping up all over the world if it's anything like previous challenges.
Rosie is an experienced food and drinks journalist who has spent over a decade writing about restaurants, cookery, and foodie products. Previously Content Editor at Goodto.com and Digital Food Editor on Woman&Home, Rosie is well used to covering everything from food news through to taste tests. Now, as well as heading up the team at SquareMeal - the UK's leading guide to restaurants and bars - she also runs a wedding floristry business in Scotland called Lavender and Rose.