Barack Obama reveals the three questions he thinks you should ask before getting married
Three simple questions to see if you've found the one... Easy right?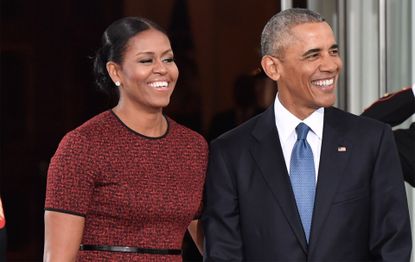 Barack and Michelle Obama are what some might call #CoupleGoals so when he revealed the questions he thinks you should ask before getting married, our ears pricked...
Barack Obama has been married to his wife Michelle for 26 years. The couple have two children together and lasted the whole eight years Barack was in office without a scratch. Not to mention the years of canvassing and campaigning that preceded his presidency.
The Obamas epitomise a happy marriage and they are not afraid to share with the world how much they love each other.
So when Barack revealed the three questions he thinks every person should ask before deciding to get married, we were interested.
The questions were revealed in Barack's former senior advisor Dan Pfeiffer's new book Yes We Still Can. It was a special conversation he had with the former president and we're glad he decided to share it with the world!
The first question is: 'Are they someone you find interesting?'
Barack explains to Dan: 'You will spend more time with this person than anyone else for the rest of your life, and there is nothing more important than always wanting to hear what she has to say about things.'
Next is, 'do they make you laugh' and finally 'will they make a good parent?'
Barack explains: 'I don't know if you want kids, but if you do, do you think she will be a good mum? Life is long. These are the things that really matter over the long term.'
People have been loving this part of the book in particular and have been posting their reactions online.
Taking to Twitter with a photo of the book extract one person wrote: 'Barack Obama's relationship advice to @danpfeiffer is better than 99% of the advice columns on the Internet.'
Another said: 'Thanks Obama😭 just when I thought I couldn't miss him more, @BarackObama comes in with the dad advice'.
A third added: 'Great advice! Thanks for sharing this personal moment.'
So could asking and answering these questions honestly be the ticket to a marriage as happy as the Obamas? It's worth a try!
Before you got married did you ask yourself or your partner anything specific? We'd love to hear your thoughts on Barack's questions as well as your own experiences. Head over to our Facebook page to get involved!
Jessica currently works as a Senior Food Writer at Future. She writes food and drink-related news stories and features, curates product pages, tests, and reviews equipment, and also develops recipes that she styles on food shoots. An enthusiastic, self-taught cook Jess adores eating out and sharing great food and drink with friends and family. She has completed the Level 1 Associate course at the Academy of Cheese and is continually building on her knowledge of beers, wines, and spirits.