Mum sparks debate after sharing video of her kissing her son with her tongue
Opinion was divided over whether the kiss was appropriate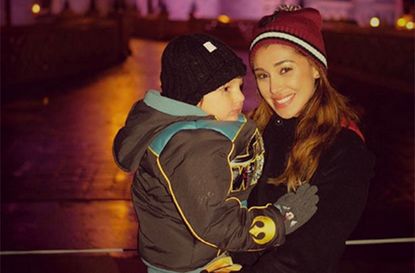 A mum has sparked debate after posting a video of her kissing her three-year-old son, where she appears to also use her tongue.
31-year-old model Belen Rodriquez, who is Argentinian but lives in Italy, shared the video on Instagram of herself and her son Santiago enjoying a family meal. During the short video, which she posted to her five million followers, the mum and son are seen having fun round the dinner table, while the toddler is left in hysterics as she puts a blob of cream on his nose and cheek.
However, there is one section of the video which has divided opinion; when Belen jokingly holds her little boys' face and appears to give him a short kiss with the tip of her tongue.
Since the video was posted to Instagram it has already been viewed over one million times with almost 1,500 comments, causing a heated debate over whether the kiss was appropriate.
Some Instagram users thought it quite uncomfortable viewing, with one saying: 'That was a bit much to watch..'
Another called it 'too much' while one person questioned it altogether asking: 'Why did she tongue her son?'
However, many others commented on the video arguing that it simply showed a mum having a lovely time with her little boy. One comment called it 'fantastic' while another said they 'love love love' the clip.
Some Instagram users defended the video, saying that people shouldn't judge parents on how they kiss their children, and it was obviously an innocent kiss between a mum and son.
One person said: 'She's not doing anything wrong. What is wrong with ppl?'
Another added: 'The way she did that is the same way I do to my husband. I'm why she was licking him like that but ok. Every parents differently I guess'.
Belen regularly posts pictures of her enjoying time with her little boy on Instagram, including meeting Mickey Mouse at Disneyland.
Charlotte Whistlecroft is a former Family writer at GoodTo. She obtained a BA in Theology and Theological Studies at Durham University, going on to study a masters at City University London in 2016. Since leaving GoodTo she has worked as a Social Video Researcher at Mail Online and is now Assistant Producer at BBC Sport.