Breastfeeding mum accused of attention seeking hits back at trolls
'Mummy's I urge u to keep posting ur photos, don't fall victim to these people who want to discourage u'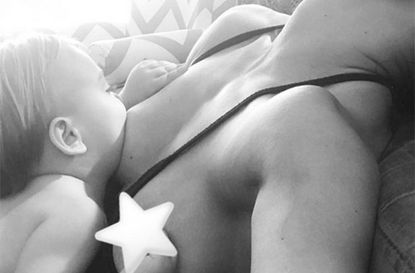 A mum has hit back at cruel online trolls who called her attention seeking for sharing a breastfeeding photo.
Nadine Muller, a fitness blogger and registered nurse, has spoken out about the stigma around breastfeeding after being told she was attention seeking for posting the nursing pic to Instagram.
The mum-of-one is known for sharing her 'breastfeeding journey' and often posts pictures that show her feeding her son to advocate openness about breastfeeding.
Nadine had taken to Instagram to share the reality of looking after a poorly child, explaining, 'Poor Madden has come down with the dreaded gastro bug'.
She continued to tell her followers about all the ways in which she was trying to keep her son happy, one being breastfeeding, 'The boss has insisted to wear one shoe the entire day, has been hanging off these on rotate whilst nipple crippling the other while he's at it'
'I've read the same Spot book about 50million times over at his request and I'm not even rousing on him for getting into all of the outta-bounds cupboards that he's obsessed with, WHATEVER makes you happy baby! 💙 Gastro can go EAD! 😏'
Despite attracting mostly positive comments, there were some that accused the blogger of attention seeking.
One user argued that the practise of taking pictures while breastfeeding is new to this generation and done for the sake of publicity.
'Breast feed in public, anywhere, I don't care but there's no need to take a photo doing it (you took it for attention), in 15 years that kid doesn't want to see themselves sucking their mums tit.'
'It's definitely for attention. Our grandmas wouldn't be like 'I'm breastfeeding get the camera' it's a new age thing because they know it will get attention and publicity.'
Many of Nadine's followers rushed to defend her, 'What it really comes down to is the primary caregiver having the ultimate decision. And it's love. Try to keep it in context to all the bad stuff that happens in the world. This Mum adores her baby!'
Another follower commented, 'What I'm the hell do you think breast are intended for....not for men's enjoyment, but to breastfeed a baby/toddler! That is their main purpose. It is natural and normal, not something to be hid away and shamed for.'
Despite gaining plenty of support from her followers, Nadine needed no encouragement in hitting back herself when a few days later she posted a video montage of breastfeeding images and addressed her trolls.
In a lengthy caption the mum-of-one denied posting any pictures for attention and called out those who think nursing in public is 'gross'.
'[TROLLS] If u've followed me for a while, u will know that I've adored the breastfeeding journey I'm on with Madden, it continues to b one of my life's sweetest of joys'
'Today another attempt to shame me on my social media was tried...Firstly, there is nothing "weird" or "gross" about these photos & there's no difference in me feeding my child with my breast than someone feeding him/herself with a spoon! Secondly, how about we simply appreciate that any mother has options, the right to her own choices, to feel supported & respected, the right to not have to hide, in fact the right to SHARE & POST proudly if she feels comfortable to do so!'
Nadine continued, 'Mothers don't post these images & videos purely for attention.'
'They post because they are #proud, to give other mums encouragement, they post so that other mums feel accepted, supported & respected.'
'We share photos to let all mothers know that however u feed ur child, breast or bottle, that it's a beautiful act & bond between a mother & her young.'
'Mummy's I urge u to keep posting ur photos, don't fall victim to these people who want to discourage u, keep doing the good work of mothering!!👊🏼'
'I'm damn proud & confident to STAND UP to people's ignorance & enjoy the bonding with my child for all it is worth.'
Trusted, informative, and empathetic – GoodTo is the ultimate online destination for mums. Established in 2007, our 15-year-strong archive of content includes more than 18,000 articles, 1,500 how-to videos, and 7,000 recipes.