We earn a commission for products purchased through some links in this article.
The idea of decorating the kids' rooms is great; you basically get to create the very bedroom you always dreamt of as a child.
The reality is often timely and rather expensive, especially when kids' tastes change so quickly these days, 'What do you mean 18 is too old for Peppa Pig bedsheets?!'
There are a few little tips and tricks however, which can transform a kids' room for a relatively small amount of pennies.
Our friends over at theROOMedit have inspired us to get decorating our kids' rooms with some small ideas that'll make a big difference, and for a fraction of the cost. Check them out below.
1. Bed of dreams
Image: Ideal Home
Is your little one pirate mad or princess crazy? Doing something as simple as adding a canopy above their bed can make for a real stand-out feature in a room. Princess bed canopies can be picked up pretty cheaply and all you need do is hammer a hook in to hang it from. To recreate this pirate-ship canopy will require a little creative thinking, but essentially all you need is some wooden poles with some pretty material hanging between the two. A project, yes, but not a costly one. For more of this bedroom see: theROOMedit
2. Map it out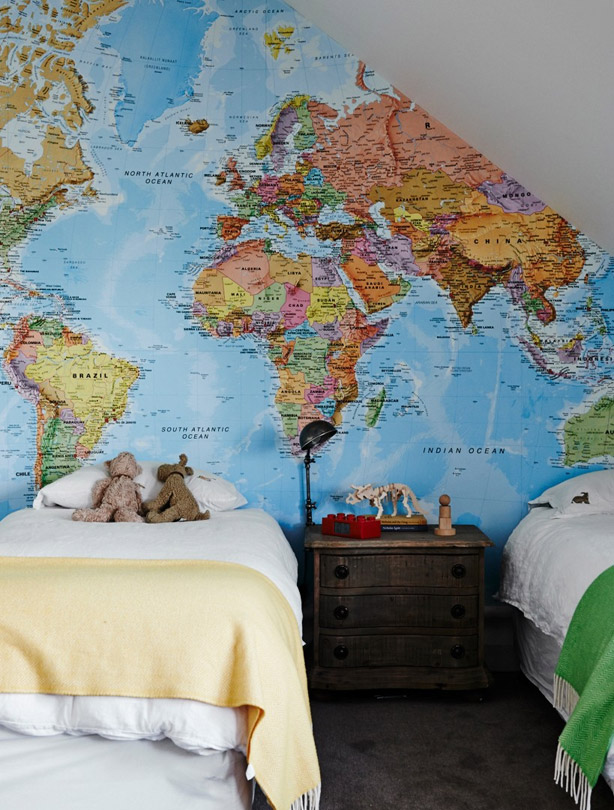 Image: Livingetc
Feature walls have been popular for some time now and show no signs of letting up just yet. They spruce up a room and give it an attractive focal point, but most of all, they're cost-effective as you only need enough paper for one wall. We love the idea of making an explorer's bedroom for your kids simply by adding this map-design paper to a wall. For more of this bedroom see: theROOMedit
3. Build a snug
Image: Livingetc
There's something magical about crawling into a den, isn't there? A wigwam-style tent in the corner of a room makes an exciting hidey-hole for your kiddiwinks that they won't want to come out of. You can pick these tents up relatively cheaply, or you could have a go at making one yourself – you could even add a few fairy lights to make it more magical. For more of this bedroom see: theROOMedit
4. Snap happy wall feature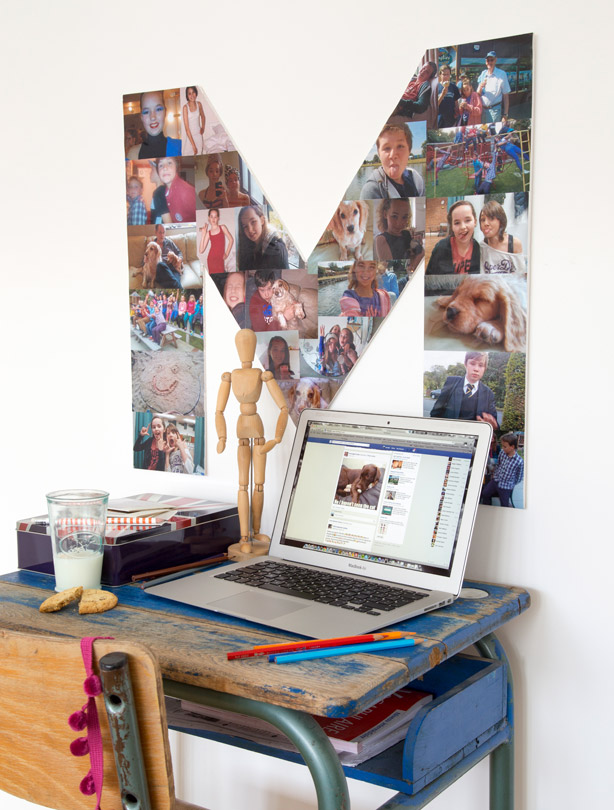 Image: Time Inc
We all love looking at photos of our family, and this decorative idea is a great way to persoanlise your kids' space. Make a letter template using some MDF or cardboard, and simply create a photo collage you can hang on the wall. Ingenius!
5. Old-school chalkboard
Image: Time Inc
Chalkboard paint is fantastic. It can turn even the most awkward of spaces into something functional, plus, as a child what could possibly be better than being told you can draw on the walls? (And just think, it may relieve the temptation to do it elsewhere). Not brave enough to paint a whole wall? Paint the space behind an empty picture frame or do as above, by painting cupboard doors.
For more kids' bedroom inspiration and home design ideas, visit theROOMedit for endless inspiration!