Adorable kids outfits that you and your little ones will love
They're comfy, cosy, and look lovely!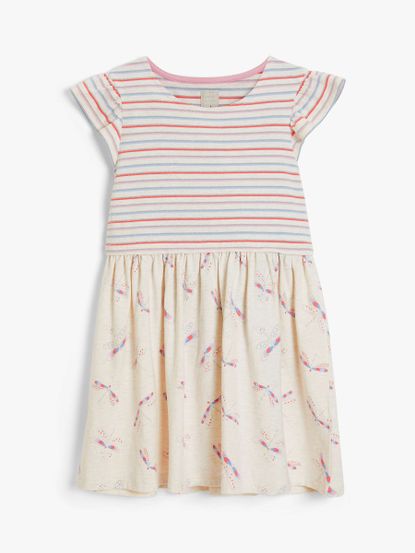 Kids clothes - is there anything more adorable to shop for?
Whether you're picking up cute, tiny outfits for a newborn baby, or searching for the perfect t-shirt for your picky 10-year-old, kids outfits are all utterly lovely - and small enough that you can't imagine how you ever fit into them yourself...
But, finding kids outfits that are just right can be tricky. Searching for something that looks nice, but won't wear quickly (and can survive some stains/rough and tumble when playing in the garden or baking with kids), might sometimes feel like more hassle than it's worth.
Shopping for kids clothes though should be fun though - we'll only ever do it once, and before you know it, your little ones will be desperate to pick up their own, deeming you far too embarrassing to be shopping for them.
So if you're looking for kids clothes to update your children's wardrobes, or searching for the perfect gift for someone else's kiddos, let us guide you in the right direction with our pick of the best on the high-street right now. And, if you're not sure how you'll manage to store any more clothes, read our advice on kids closet organization. (opens in new tab)
Adorable kids outfits your little ones will love
John Lewis Dragonfly dress, £9.80
This utterly adorable dress, with a striped top and flared short sleeves, and a dragonfly skirt, is a John Lewis bestseller at the moment. Available between ages 3 - 12, it'll work for a huge range of ages - and could even be a sweet outfit for your little ones to match in! It's 95% cotton, so is as soft as it looks. This would be perfect for the warm summer ahead.
John Lewis Dinosaur Shirt, £9.80 - £11.20
Any kid would surely be delighted with a shirt as fun as this! Keep up the fun for more formal occasions, with this multi-coloured, dino-print shirt. It's short-sleeved, so great for sunny days, and most importantly - machine washable - phew!
John Lewis Baby Joule Puffin Babygrow, £11.97
Now what could be more adorable a puffin babygrow? This super-sweet, unisex babygrow adorned with the creatures would make for a beautiful gift for new parents. It's available for up to one years old.
My First Years Personalised Lion Robe
Okay, so this isn't strictly an outfit, per say, but we absolutely couldn't resist including it in this round-up due to how utterly adorable it is! A super affordable buy at just £28, the robe is available from newborn sizes all the way up to five years old. Personalise it with your little one's name and it'll be even more exciting for them to wear - and that's before we even get to the sweet lion's ears!
The White Company Top and Stripe Trouser Set, £38
An utterly elegant outfit, girls will look completely adorable in this pretty white and pink set. It's ideal for summer with a strappy top and wide flowy trousers. Perfect for beach strolls or afternoons spent at the park...
Joules Shark Raincoat, £39.95
Kids will love this brilliant, shark-style raincoat, on sale at Joules. It's perfect for splashing about in the rain and puddles during a walk, and for chilly days, is even lined with a warm fleece to keep your little ones cosy. Just don't forget the wellies...
V by Very Heart Jumper, £9
Designed for ages 3 months - 6 years, this adorable jumper will look so stylish on your little ones, and will keep them warm and cosy while the weather's still a little chilly. The jumper will go with just about anything too - whether it's a pair of jeans, a skirt, or some comfy leggings.
Monsoon Denim Playsuit, £14.40
If you're keen to start getting your little one's wardrobe prepped for the summer, where better to start than this fun playsuit? With playful, multi-coloured tassels, and denim fabric that will never go out of style, this is a great pick. Pair with sandals, sunnies, and they're good to go!
The White Company Crab Polo & Striped Shorts Set, £36
Another item to help you prepare for the summer, you get a whole outfit here for just £36! Kids will likely lovely the crab design on the t-shirt, while the shorts are pretty sophisticated. Plus, you can easily mix and match the items with other bits too. We can foresee this coming in very handy for future holidays...
The White Company Anchor T-shirt, £18
This easy, throw-on sea-inspired top is such a great wardrobe staple. It goes with absolutely everything (be it trousers or shorts), and is 100% cotton. Plus, it can be machine washed - bonus for parents.
Joules Emilia Jersey Leggings, £12.95
Every kid should have a good pair of leggings, and these ones from Joules are both fun and versatile. With a subtle star print on the legs, and a soft stretch to the leggings, your little ones will be delighted to wear these comfy, quality bottoms.
Joules Maywell Check Shirt, £24.95
For any smarter occasions, be it a family party or a friend's birthday, all boys need a smarter shirt that's still comfortable to wear. This option from Joules is available in sizes 1 year - 12 years.
H&M printed jersey shorts, £2.99
These fun summer shorts from H&M are the perfect pick for upcoming days spent at the park or running around the garden. With an elastic waist and drawstring detail, they'll be super comfy for your little ones, and allow them the maximum freedom for days spent playing. They'll also be brilliant for any future holidays...fingers crossed!
Amy is Senior Digital Writer across Woman & Home, GoodTo and Woman, writing about everything from celebrity news to health, fashion and beauty features. When she isn't obsessing over the latest dress drop from Marks & Spencer, you'll most likely find Amy out running, or with a cup of tea in hand ready to dive into a gripping new Netflix series.