New research finds adults believe that at age 11 kids become less kind
Do you agree?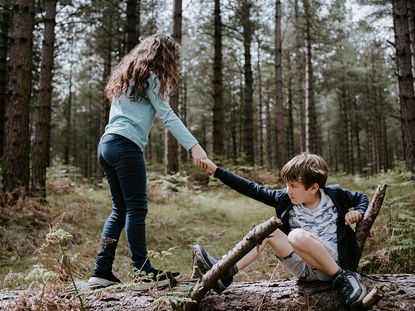 (Image credit: Getty Images/EyeEm)
GoodTo newsletter
Sign up to the GoodTo Newsletter. You can unsubscribe at any time. For more information about how to do this, and how we hold your data, please see our privacy policy
Thank you for signing up to . You will receive a verification email shortly.
There was a problem. Please refresh the page and try again.
Would you share your food with someone else? Or help someone pick something up that they'd dropped on the floor? Apparently adults are less likely to showcase a caring nature or rush to someone's aid than children. And the age that adults think kids begin to mimic this behaviour is 11.
This is according to new research carried out by Bassetts Vitamins, which studied 1000 adults and 1000 children. Results showed that as we become aware of social norms, we act less on instinct and become preoccupied with our other things (phones!), and kindness diminishes.
The study involved a behavioural experiment to highlight the differences between adults and children when it comes to being kind.
Participants were told they would be taking part in an experiment and instructed to sit in the waiting room while everything was being set up – unaware they were already under observation.
While they eagerly awaited what was going to happen next, an actor posing as a production assistant, started tidying up and 'accidentally' knocked over a pot of pens to see how the volunteers reacted.
The differences between the adults and children were immediately obvious. As the kids got up to help clear up the felt-tip pens without question, the grown-ups were more hesitant.
'The results of the experiment confirm that children feel more comfortable with others who are caring and kind, because experience has taught them that kindness creates a better atmosphere than conflict at home, and cooperation gets better results,' says child psychologist, Dr Richard Woolfson.
He continues: 'Once they leave the sheltered world of childhood, and enter adulthood, however, they find that priorities change, that results are valued more than people, and that success is valued more than sensitivity. In that harsher environment, kindness becomes less important, and may even be construed as a weakness. This may explain why the adults who took part in the experiment were less helpful than their children.'
Adult do still showcase their caring nature, by opening doors (56% claimed they do this regularly in a typical week), making tea for others (45%) and smiling at a stranger (42%).
However being charitable ranked low on the list, with just one in five adults checking in on an elderly neighbour, and just 17% putting some time aside for volunteering.
They're also less likely than kids to share food. Only 33% would think of doing so, compared to 43% of children who would happily hand some over to a friend or loved one. While children are more likely to dole out hugs.
However, both adults and children agreed good will is an important attribute to have, with 68% of grown-ups saying this would make them prouder than their children getting good results at school.
Watch the full video of the experiment here (opens in new tab).
Warning, it's pretty sweet!
Natalia is a health journalist with 14 years experience in the publishing industry. She has worked for a number of well known magazines and websites including Marie Claire, Woman&Home, Top Sante, Boots and The Telegraph. She likes to think she practices what she preaches when it comes to health and fitness. Her athletic prowess began early. A keen fencer for 13 years, she wielded an epée for Olympic Team GB during her teenage years. She likes to think she made sword-fighting cool before Game of Thrones came along! While working on her sporting performance with the team, she also participated in a lot of nutrition and psychology training, When it comes to time off, you'll most likely find her up a mountain somewhere. It seems holidays have become a time for climbing several thousand feet, rather than chilling out. She's now hiked eight of the major mountain ranges across four continents – including the Appalachians, the Smokies, the Sierra Nevadas (she spent her honeymoon hiking to the top of Half Dome), as well as hitting the summits of Snowdon, Pen-Y-Fan (Brecon Beacons), Table Mountain in South Africa, the Blue Mountains in Australia and the Atlas Mountains in Morocco. She's also passionate about all things health, particularly vaccinations, and will happily jump on her soap box at any given opportunity to talk about their benefits to anyone who will listen!