Preparing your child for the new baby
Expecting a baby is an exciting experience, but if you've got other children it can be an unsettling time for them. Here's how to prevent any upset by preparing your toddler for the birth of their brother or sister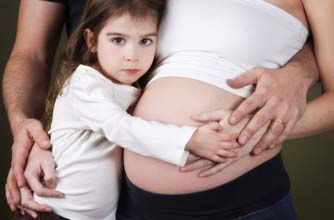 Expecting a baby is an exciting experience, but if you've got other children it can be an unsettling time for them. Just imagine your partner announcing he's bringing home a new woman? Your child may feel threatened by the new arrival. Here's how to prevent any upset by preparing your toddler well for the birth of their brother or sister.
Before you tell them your news
You'll probably be very excited when you find out that you're pregnant again. But before you rush into telling your other children, think about how they may react first. They'll handle the news much better if you prepare them in advance.
DO: *ask a pregnant friend around to your house. Talk about the baby in your friend's tummy. Ask your friend if your little one can feel her tummy. *visit a friend with them who's just had a baby who has other children and talk afterwards about what fun it is to have a baby in the house. *if they don't already have one, buy them a baby doll to play with, whether they're a boy or a girl. *read them books featuring brothers and sisters and talk about the fun they can have together. *talk about friends of theirs who have brothers and sisters. *when you're out and about point out families with more than one child.
When you decide to break the news
DO
*make your child feel special. Give your child lots of hugs and tell them how much you love them before gently telling them your news. *choose a quiet time on your own together and don't make too much fuss, just bring it into your normal conversation. *try to avoid other people telling your child before you do. This news really needs to come from you. They could be very upset if someone mentions it in passing before they know. *a good way to tell them would be to find a book about a mum having a baby and read it to your child. Then explain at the end that you're having one too. Check out the kids section of your local library.
*explain that the baby will be their very own brother and sister and will be tiny and helpless to start with, so you'd really appreciate their help to look after the baby. That way they'll feel involved. *talk about things you can do together with the baby like singing your child's favourite to them, holding the baby's hand, helping to change the baby's nappy or put them to bed. *involve them with your plans for the baby. Talk about the things they loved when they were a baby, and what they think this baby will like. *tell them that the baby will have a present for them when it arrives.
DON'T *tell them too early. Little children have very little understanding of time, so tell them when your bump starts to show. *talk about the baby constantly. They may start to be jealous of their brother or sister before they're even born. *make changes that may upset them. When the baby arrives, your little one will have to come to terms with a lot of changes, so try to keep to your routines with your child to keep things calm. *tell them they'll have someone to play with. You can't play with a newborn, but explain that the baby would love it if they talked to him or drew them a picture. *go on about all the new things the baby will need. This may make your little one jealous thinking the baby is getting loads of new things and they aren't.
Telling your child about the new baby
Follow these do's and don'ts to get your little one to accept your happy news:
DO *tell your child about your plans for them when you have the baby. Who's looking after them? Make sure it's someone they know well and make it sound exciting, like they'll be having a sleepover party. If they feel happy about what's happening it will be so much easier when the baby arrives. *if you're having your baby in hospital, let your toddler help pack yourover night bag, then they can pack theirs too. Make it into a big game. *maybe buy them new pyjamas or a cuddly toy to make it special for them. *if you're having your baby at home you'll obviously still need someone on hand to look after your little one. You may want your little one to be at home, or find it easier for a friend or relative to take them out so that you can concentrate on the birth. Try to avoid them feeling left out though, tell them that when they return they should have a new brother and sister to meet. *do let your little one see you and their new brother and sister as soon as you're able to cope. Making your toddler feel part of the event will help them accept the baby. *have a present wrapped up ready to give to your toddler from the baby. Tell them the baby knew exactly what they wanted as they'd been listened to them through your tummy. Your little one will be delighted. *let them kiss and cuddle the baby. Don't fuss too much and tell them they can't, it will really help them bond with the baby. You'll be surprised just how gentle toddlers can be with a newborn. If you feel they're old enough to hold the baby, let them gently cradle it with help from you or your partner.
DON'T *let your little one see if you're panicked or worried yourself about the birth. They may pick up on your anxiety and get anxious themselves. Play it down. *tell them that you don't know when you'll be back home or how long it will take. That may confuse and frighten them. Just explain that they'll be able to come and see their brother or sister very soon and that mummy won't be away for long. *put your child out of their normal room - to make way for the baby, if you can avoid it. Newborns need to sleep in your room, anyway, so there's no need to make room for the new arrival yet.
Missing their mum?
*if you have a Caesarean and have to stay in hospital for a few days, it can be hard on your toddler. Try to set up a rota of people who can bring them in to see you and the baby every day and talk to them on the phone as often as you can. *ask your partner or a friend to take some pictures of your toddler with the new baby and with you especially for your toddler. They can keep them by their bed and look at them when they miss you. *give them something that reminds them of you. They may want to cuddle up to one of your jumpers or a soft blanket with a spray of your perfume.
When you're bringing the baby home
*go straight to your toddler for a hug. Ask your partner to carry the baby into the house after you so the attention isn't all on the baby. *talk about how the baby looks like your toddler when they were born. *tell your little one stories about when you brought them home. *let them speak to friends and family, too, to tell them the news about their new brother or sister. *let them help you with the baby. Ask them to get the nappies for you or help you to bath the baby. *keep life for your toddler as normal as possible with bedtime routines and meals.
The green-eyed-monster Even the most mild-mannered child will probably get a bit jealous because they suddenly have to share their mum, so: *make time for them on their own. You'll probably be exhausted yourself, so even if it's just cuddling up together to read or story, or have a sleep together, that's fine. *reassure them. Keep telling them you love them and how special they are to you. *make them feel special. Tell them they are being so kind to their new brother or sister and that you really appreciate all their help. *make a fuss of them. If visitors are giving the baby loads of presents, your little one could get very upset and jealous. If you're feeling bold enough, ask close friends and family if they'd mind bringing a small, inexpensive gift for your toddler too. Otherwise keep some little gifts for them wrapped up to bring out in crises.
*try not to fob them off with, 'not now darling, I'm busy with the baby.' You will be busy with the baby, but if you keep telling them that they'll feel dejected and left out. *don't get angry with them if they get jealous of the baby. If you can, ask someone else to hold the baby for you whilst read your toddler a bedtime story.
It's not all about THEM though Do remember though, this isn't all about your toddler. This is a very special time for the whole family and particularly for you and your new baby. Your toddler can't have EVERYTHING their own way, so don't pander to their every whim.
Your little one can still sit on your knee whilst you cuddle the baby together but sometimes its inevitable that you have to put the baby first, and need time on your own with the baby. Don't shut them out though. If you involve your toddler in as many activities as possible with the baby, they'll soon begin to realise that this little bundle isn't going away and is actually quite good fun to have around.
Where to next?
- Inducing labour: the facts
- Travelling when pregnant - advice on flying, driving and more