Top kids' toys for 2019: The toys your little one will be asking for this year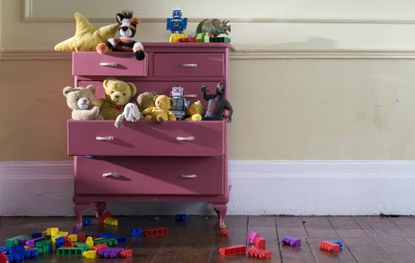 Goodto Newsletter
Parenting advice, hot topics, best buys and family finance tips delivered straight to your inbox.
Thank you for signing up to GoodTo. You will receive a verification email shortly.
There was a problem. Please refresh the page and try again.
Want to treat your kids before the most sought after toys of the year sell out? Read on to discover the top kids' toys for 2019.
Thought you had just about recovered from the toy-fuelled flurry that was Christmas 2018? Well think again - because the London Toy Fair has released a list of what it predicts will be the top kids' toys for 2019.
The Toy Fair, which takes place in London every January, employs an independent panel of retailers (a.k.a toy experts) to consider over 270 companies and look into several categories including high-tech toys, educational games, dolls, teddies...we could go on.
The age range spans from toys for toddlers to those of higher ages - so it's fair to say that all grounds have been covered in considering what have made this year's list of top kids' toys.
Mum shares GENIUS hack to get kids to tidy up their toys
From cute Baby Shark toys, to Fingerlings available in both 'mini' and 'hug' size to wrap around and cuddle your little one, you should be able to find toys to brighten up a dull day for your favourite boy or girl.
Also among the top kids' toys for 2019 picked out by the Toy Fair's experts are a stunning fairy garden and Velcro building blocks, to give younger children an exciting new way to build toy structures. And, if you want a creation that matches your mischievous little joker's personality, then check out SpyX's drone which can be fired using foam arrows.
This time of year can feel like it's dragging on for kids as Christmas has passed, it's too cold to play outside and it feels like summer is forever away. So, if you're looking for a way to keep them occupied, during the current winter chill these tried and tested toys could be the answer...
Top kids' toys for 2019: Baby Shark singing plush toy
If you thought that the Baby Shark song had invaded your household enough, then think again as you can now buy plush singing versions of Baby Shark, Mommy Shark and Daddy Shark. Simply squeeze them if you're in a mood to do a boogie to that infamous song in your own home...
Buy Baby Shark plush singing toy here
Top kids' toys for 2019: Interplay Fairy Garden
Let your child create their very own enchanted garden with the Interplay Fairy Garden set. Join in by helping them follow the 12-page activity guide to construct a magical miniature cottage complete with a pretty garden.
Buy the Interplay Fairy Garden here
Top kids' toys for 2019: Little Brian Paint Sticks
These handy little paint sticks provide a fun, clean and convenient way for your child to paint - all the creativity without any of the mess, don't think we could think of a better gift for the kids?
Buy Little Brian Paint Sticks here
Top kids' toys for 2019: Peppa's Alphaphonics Campervan
Peppa's Alphaphonic's Campervan features an endless amount of fun games to help your child with learning letters and words. Complete with easy-to-press light-up keys and catchy melodies, this toy is guaranteed to get your kid excited about learning.
Buy Peppa's Alphaphonics Campervan here
Top kids' toys 2019: SpyX Walkie Talkies
This Walkie Talkie set will keep your suave little spies connected no matter where their next mission takes them. If you're in charge of an agent on a solo mission, then keep a Walkie Talkie to yourself to make sure they don't wander off too far into the unknown.
Buy the SpyX Walkie Talkies here
Top kids' toys for 2019: Untamed Raptor
These prehistoric toys are available in loads of different colours and are perfect for group play-dates. Your child simply wraps one around their finger and lets their imagination run wild. Buy the ferocious t-rex and dinosaur uncaged variety if your kid wants to mix things up.
Buy the Untamed Raptor by Fingerlings here
Top kids' toys for 2019: Velcro Brand Blocks
These lightweight building blocks are perfect for small hands to hold and suit children from ages 3 and upwards. The velcro brand fasteners allow for infinite creativity and hours of fun!
Buy the Velcro Blocks Stegosaurus set here
Top kids' toys for 2019: Fingerlings 'HUG' Toys
These cute monkeys fit perfectly around your little one to give them the perfect cuddle - and you can even get tiny ones if they'd rather wrap them around their fingers as they run around and play.
Buy the Fingerlings' Pink Bella 'hug' toy here
Top kids' toys for 2019: S.W.A.K Kissable Keychain
This cute pair of lips by WowWee doubles up as both a keychain and photo holder, and needs only be held to the cheek of a loved one for a few seconds before it gives them a real kiss. Cute and very easy for your kid to use.
Buy a S.W.A.K Keychain here
Parenting advice, hot topics, best buys and family finance tips delivered straight to your inbox.
Freelance Lifestyle Writer
Niamh McCollum is a freelance lifestyle writer who has written for Future titles GoodTo and Marie Claire UK, plus the Irish Independent. The Dublin-based journalist specialises in stories
affecting families - from health updates, to the freshest parenting debates and celebrity announcements.