Your family NEEDS the hilarious Chow Crown for your next game night
Let the games begin!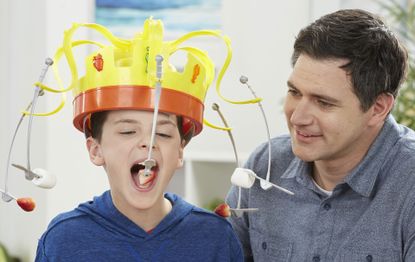 Introducing the side-splitting new game that the whole family are going to love.
Game nights aren't always the easiest to plan. Dad wants to play Trivial Pursuit, your teenage son votes for Cards Against Humanity, the little one is desperate for Twister and you're just happy with a relaxed round of Scrabble.
But this new game might just be the solution to all your games night squabbles.
Chow Crown is an oh-so simple game that involves you eating snacks from forks that are spinning around your head from your food crown. Sound easy? Well the aim is so finish all six snacks before the music stops. It's much easier said than done!
Think Musical Chairs, with a big upgrade because each round is rewarded with food, rather than injury having someone try and shove your bum off a seat.
Luckily the edible items are not included, otherwise you'd be on some serious time crunch to get that box home from the shops.
You're able to attach whatever snacks you want to the mini forks dangling from the crown. We suggest picking smaller snacks if you want to give the family a real challenge. Anything from crisps to marshmallows would work, or you could even use it as a fun way to get some fruit into the kids at snack time. Orange segments, apple slices, strawberries, blueberries and grapes would attach perfectly.
And while eating one Dorito at a time (only if you're able to catch it when it whizzes past your mouth) may seem tedious, there's something strangely satisfying about the sense of reward you get from finally getting that Cool Original you've missed the last five rounds. It's far less gluttonous than grabbing a handful straight from the bag.
Whether you're a Monopoly tycoon, Operation fan or Cluedo enthusiast, the Chow Crown appeals to everyone's inner snack cravings. Let the games begin!
Aleesha Badkar is a lifestyle writer who specialises in health, beauty - and the royals. After completing her MA in Magazine Journalism at the City, the University of London in 2017, she interned at Women's Health, Stylist, and Harper's Bazaar, creating features and news pieces on health, beauty, and fitness, wellbeing, and food. She loves to practice what she preaches in her everyday life with copious amounts of herbal tea, Pilates, and hyaluronic acid.