'It's something I would never ask another girl' Christine Bleakley reveals she's had enough of baby questions
Christine opened up to the Loose Women panel about being questioned on her age and children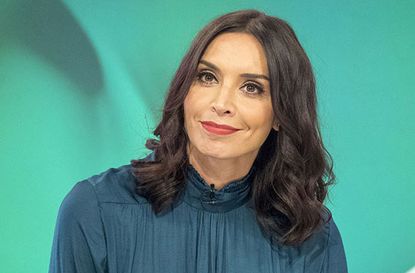 Christine Bleakley has appeared on Loose Women, admitting that at 37 she is constantly asked why she has no children.
The One Show and This Morning presenter appeared on the popular daytime television programme to discuss what it's like to be married in your late 30s without children.
Christine has been married to football star Frank Lampard for 10 months and is step mum to his two daughters, but has no children of her own.
Talking to the Loose Women panellists Coleen Nolan, Gloria Hunniford and June Sarpong, Christine spoke out about the insensitivity of many people's prying questions when they realise her age.
Explaining that she's always been presumed older than she is, Christine revealed it shocks people to learn she's 37 with no children on the way.
She said, 'Oddly enough at 37, if you don't have babies, it's all I get asked. Firstly it's: "Oh you're 37! No babies yet?" That's a really big question. It doesn't bother me really but it's something I would never ask another girl.'
She pointed out that getting pregnant can be a very sensitive subject for some couples, and that although she isn't offended by questions she has noted that some people find it hard to have a baby.
Continuing to the panel she added, 'Purely because I have so many friends who have been through terrible struggles to have little babies and you just don't know what's going on behind closed doors and what's going on in other people's lives.'
'It's a question I would never ask anyone but I get asked it loads.'
Christine has been in a relationship with husband Frank since 2009, and revealed that over time she has built a great relationship with his two daughters, Isla and Luna, from his previous marriage.
Previously commenting on their family dynamic she explained that she's been careful not to try and take over from their mum, 'Being a stepparent oddly enough I've always taken the role of a big sister, they've got a mummy and daddy and I'm not there to do that, so I'm there as a bit of a big sister.'
'But they look at me as being the naughty one, so it's quite a nice relationship actually. They love the idea that they can say 'Christine what do you think of this?' it's almost like whispered behind daddy's back. I think we've got a good set up.'