'You'd be p****d too' Stay at home mum explains what it's really life when your other half goes away
The stay at home mum explains why when a partner goes away for a weekend it's so frustrating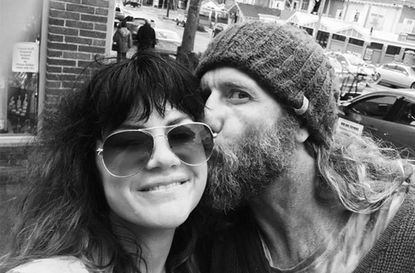 GoodTo newsletter
Sign up to the GoodTo Newsletter. You can unsubscribe at any time. For more information about how to do this, and how we hold your data, please see our privacy policy
Thank you for signing up to . You will receive a verification email shortly.
There was a problem. Please refresh the page and try again.
Stay at home mums and dads, we don't need to tell you lot that it's tough, being home all day with kids.
And the light at the end of the parenting tunnel is two glorious days when the other half comes home, and helps. Helps with trips to the park, feeding, watering, entertaining... or just being there.
So when that partner has a spontaneous plan to go away for the weekend, it's enough to make you break down and cry - and if that's ever happened to you, know that you're not alone, as mum blogger Constance Hall has taken to social media to explain why being upset about solo parenting on a weekend, after doing it all week, whether it's a mum or a dad, is totally okay.
In a candid Facebook post, the mum-of-six shared the story of a friend asking if it was 'OK to be upset that her husband planned to go on a 'spontaneous boys weekend?'
[facebook] https://www.facebook.com/mrsconstancehall/photos/a.1020217474689744.1073741828.1019711431407015/1651093484935470/?type=3&permPage=1[/facebook]
'She asked me, "is it OK that I'm so mad? Would you be upset?" So I thought about it, from both sides, and the truth is that yes, I would be upset,' she wrote.
Constance said that many parents who don't stay at home with their kids don't realize the sacrifices their co-parent makes by staying at home everyday.
'It's hard f*****g work and no matter how hard they work, the same amount of work is presented to them the following day,' she continued, adding that the only break they get is the other parent being home, giving them some semblance of a typical weekend.
'You are the weekend, you are the break.'
'Just knowing that [they're] not going to be the only one getting food down the kids' throats or not the only one to buckle in and buckle out every kid makes it so much easier.
'The kids are happier because you are home, the woman (or man) you love is happier because you are home. How crazy is that?
'So the next time you want to spontaneously go away on a boys' weekend, and I'm not saying never have spontaneity, but I want you to understand why your partner may feel let down, imagine if you worked five days and just before you clocked off your partner called you and said, 'By the way, you don't get a weekend this week, you're working all the way through. You'd be kinda p*ssed too.'
Constance ended her post by reminding work-away-from-home parents that if there's someone at home who wants them there - even if it's a little bit because they need a break - they're 'already winning at life.'
Her message resonated with many mums, who commented in fierce agreement.
One posted: 'And on the RARE occasion that the wife has a weekend away (which is usually only 1 night not 2) The wife will clean the house top to toe beforehand, the fridge will be stocked and meals prepared,' while another was very upfront about being a working mum, saying: 'I feel like my break is going to work '
A third wrote: 'I love this more than anything you have ever wrote. Stay at home mum for 5 years... Loneliest job in the world.'
What do you think? Let us know in the comments box below.