Disney Princess Belle's kind gesture goes viral after she makes critically ill girl's dreams come true
There wasn't a dry eye in the house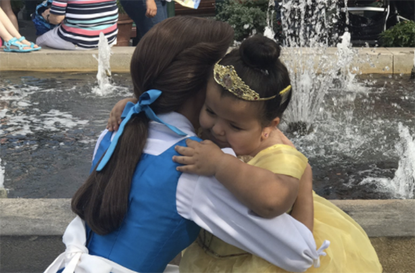 GoodTo newsletter
Sign up to the GoodTo Newsletter. You can unsubscribe at any time. For more information about how to do this, and how we hold your data, please see our privacy policy
Thank you for signing up to . You will receive a verification email shortly.
There was a problem. Please refresh the page and try again.
One little girl has had all her wishes come true after meeting her favourite Disney princess, Belle from Beauty and the Beast, at Disney World.
Daisy, seven, was born with Achondroplasia, a rare form of dwarfism, and has spent a lot of her life in and out of hospital undergoing multiple surgeries. Nurses quickly grew fond of the little girl, and when the opportunity came about to work with the Make-A-Wish foundation, a global organisation that grants critically ill children any wish they want, one nurse nominated Daisy to have her biggest dream come true.
For Daisy, who is from Texas, this meant travelling to Disney World Florida to meet her favourite Princess Belle, who went the extra mile to make sure her visit was incredibly special and memorable.
Daisy's aunt Patricia shared a series of photos, which have since gone viral, of a beaming Daisy arriving for her princess date in Belle's favourite yellow puffball dress.
One of the images shows her grinning at the Disney character, who is bent down and smiling from ear to ear.
Another features little Daisy wiping away happy tears as she's overcome with emotion meeting her idol.
After their face-to-face meeting, Belle exceeded expectations by offering Daisy and her family a tour of 'France' – a corner of Disney World's Epcot park set up to recreate an authentic French landscape, just like the environment where the film is set.
'So Daisy just met Belle… and Belle asked if we had plans after… when we said no, she said, "Great! What if I take you on a tour of France?"' Patricia explained in the captions for the sweet snaps.
'Daisy was jumping up and down from excitement and was bawling her eyes out when Belle told her she would take her on the tour,' she later told E! news. 'Daisy was sobbing from happiness, and everyone around her was crying, too.'
But it wasn't just Daisy and onlookers who were moved to tears – Patricia added that the princess herself became very emotional: 'Disney characters never break character, but Belle almost started crying when she said goodbye to Daisy [at the end of the tour] because she was so touched.'