Danielle Lloyd opens up about the possibility that son Harry may have Asperger's syndrome
'I just want to get him the help and support he needs – that's all you can do as a mum, really'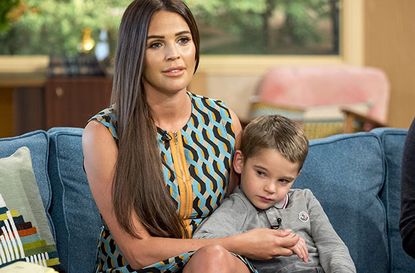 Danielle Lloyd has appeared on This Morning to discuss the possibility that middle child Harry has Asperger's syndrome.
Now mum to four boys, Danielle said that she'd always known there was 'something different' about her third son.
Sitting on the show's sofa with six-year-old Harry, Danielle said: 'There's definitely something different about Harry, he's very special.'
'He's got his own little ways, and he's very emotional and socially awkward around people. It can be very difficult to deal with at home, it can be frustrating for me, and for other people as well.'
She went on to explain that when they're out and about strangers will judge Harry's behaviour, and her parenting.
'He screams and shouts when we're out, and people look at him like "why isn't he behaving himself?".'
Danielle has ruled out severe autism, and tests have come back negative for diagnosis, but she is convinced there is something 'odd' about him.
'If I tell him to go outside and play with his friends, he'd rather lock himself in his room with all of his belongings; he struggles to make eye contact... he's just got really odd habits.'
Harry was very quiet on the segment, with Danielle commenting that he'd been talking constantly 'since 6 AM - even the woman next to us on the train gave us a funny look!'
'I just want to get him the help and support he needs, that's all you can do as a mum, really.'
It's not the first time Danielle has addressed her concerns over Harry's behaviour. In February 2016, she opened up about the fact he was being tested for autism, telling OK! magazine: 'Fingers crossed he'll be alright - I just have to keep an extra eye on him.'
'Harry has been tested for so many things - including brain damage - after being born 10 weeks early.'
'He's very much a loner and likes to be by himself rather than with the other two. He also struggles with things like getting himself dressed and playing games.'
'His MRI scans and ear tests were all clear but his balance is still not quite right and I know he's different to my other two boys.'
Trusted, informative, and empathetic – GoodTo is the ultimate online destination for mums. Established in 2007, our 15-year-strong archive of content includes more than 18,000 articles, 1,500 how-to videos, and 7,000 recipes.