Mum sparks debate after revealing her child's nursery wants to start potty training her son
Mum stunned as nursery wants to potty train her child.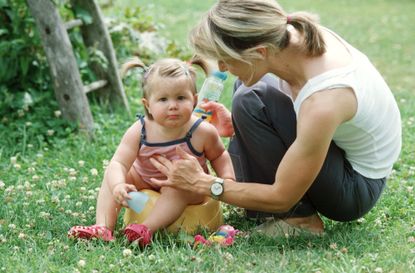 GoodTo newsletter
Sign up to the GoodTo Newsletter. You can unsubscribe at any time. For more information about how to do this, and how we hold your data, please see our privacy policy
Thank you for signing up to . You will receive a verification email shortly.
There was a problem. Please refresh the page and try again.
A mother has been left stunned after receiving a letter from her toddler's nursery school stating that their intent to begin potty training her child.
The disgruntled parent took to Mumsnet to ask fellow mothers for advice on how to respond because she would like to potty train her three-year-old son herself.
Writing on the popular parenting forum, the mother revealed: 'Ds was 3 at the beginning of March and has been attending this nursery since he was 2. It's a fantastic nursery and I've never had any problems with it.
'However yesterday, they sent home a note asking for pants and spare trousers as they were going to start potty training Ds.
'I don't want them to potty train him. I was waiting until the summer holidays like I did dd as it was so much easier when she could walk around with no clothes on, she understood better and was trained in 3 days.'
She continued: 'I suspect they want him to move up to the next group and they require them to be potty trained in that group. Something that was never mentioned when I joined him there. Would you speak to the nursery and request they don't do it?'
The mother went on to reveal that she thinks her son is "immature" for his age and "won't understand it just yet".
Her dilemma left other parents divided, with several outraged at the nursery school's letter.
One person commented: 'It's not their choice. I would have a word with them and find out why they feel it is necessary and remind them that it's your choice because you are his parent.'
Another added: 'This would p**s me off. It's not their decision to make. I have worked in early years for over 10 years and never ever told a parent I had decided to toilet train their child.'
However, other users felt the added help could do no harm and could actually be beneficial for the toddler.
One parent reasoned: 'I can see why you're annoyed but it wouldn't hurt to give it a go. Most kids are potty training around that age,' while another added: 'Surely any extra help is a bonus?? He could be all sorted week before the holidays, it's a long way off!!'
What do you think? Would you have appreciated help from your child's nursery in the potty training process? Let us know your thoughts in the comments below!
Words by Kirsty McCormack
Trusted, informative, and empathetic – GoodTo is the ultimate online destination for mums. Established in 2007, our 15-year-strong archive of content includes more than 18,000 articles, 1,500 how-to videos, and 7,000 recipes.