'A couple hours later I woke up and Charlie was gone' Dad warns parents against letting babies fall asleep on their chest
He's trying to fight against the images in the media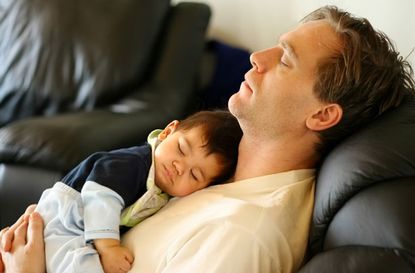 A dad who sadly lost his son while he was sleeping on his chest is warning parents against the practice, as it could put babies at risk of dying from SIDS.
Dr. Sam Hanke shared his story in a bid to warn parents and save them from the same pain he had to go through.
Explaining how the loss of his son occured, Dr. Sam said he sat down with baby Charlie to let his wife have a rest. He then nodded off while watching TV, but when he woke up Charlie had passed away.
https://www.facebook.com/CharliesKidsFoundation/photos/a.298481096927296.65932.298457890262950/995229693919096/
'I just sat down on the couch to watch some TV and he was kind of sitting on my chest. We were just hanging out and I nodded off', he told Fatherly. 'A couple hours later I woke up and Charlie was gone.'
Charlie died because Sudden Infant Death Syndrome, or SIDS, the likelihood of which can be increased when parents fall asleep with their children on the sofa.
According to The Lullaby Trust, a UK charity that promotes safer sleep for babies, studies have found that sharing a sofa with an infant is associated with an extremely high risk of SIDS.
One of their reports states that in England and Wales approximately one-sixth of infants who died of SIDS were found sleeping with an adult on a sofa.
Dr. Sam's tragedy happened in 2010, but now he wants to make other parents more aware of the danger their children could potentially be facing, especially at an age when images of dads sleeping with their babies on their chest is a frequent sight on social media.
Seeing these sleeping practices on social media creates an idea that they are okay, which is exactly what the dad wants to change. In order to spread the message, he set up a charity with his wife called Charlie's Kids, to educate parents about SIDS and safe sleep.
'Even in our own hospitals it's something that we struggle with. There's certainly a norm to these images that is subtly saying that these types of behaviours are safe and okay', he said.
'We hope that people will say, 'Wow, that kid is in an unsafe sleep environment. We hope that it'll become more and more recognised.'
Current NHS guidances advises parents to 'never sleep with your baby on a sofa or armchair'.
Trusted, informative, and empathetic – GoodTo is the ultimate online destination for mums. Established in 2007, our 15-year-strong archive of content includes more than 18,000 articles, 1,500 how-to videos, and 7,000 recipes.