Educating Greater Manchester viewers criticise school for not taking phones away from children
'Why do these kids have their phones out during a lesson?'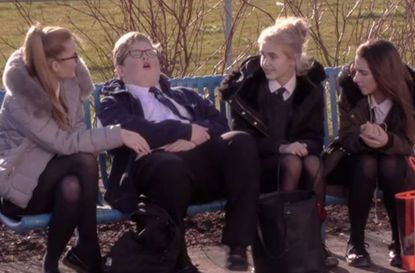 GoodTo newsletter
Sign up to the GoodTo Newsletter. You can unsubscribe at any time. For more information about how to do this, and how we hold your data, please see our privacy policy
Thank you for signing up to . You will receive a verification email shortly.
There was a problem. Please refresh the page and try again.
Educating Greater Manchester viewers have taken to social media to criticise the school for not taking phones away from the children during lessons.
During the third episode of the Channel 4 show, viewers were given another glimpse of the Harrop Fold School in Salford.
But as the programme showed students on their phones during class, viewers took to social media to criticise the school for letting them use the devices when they should have been learning.
One said: 'Why do these kids have their phones out during a lesson? Surely it should be confiscated if it's seen?'
A second wrote: 'Why are the kids allowed their phones in school?', while a third tweeted 'Why are they on their phones?'
One particular student, Mitchell, also sparked concern among viewers for his bad behaviour, after teachers suspected he had created a profile on dating app Tinder.
Mitchell was then forced to hand in his phone but he surprised everyone watching at home when he pulled out another phone that he had kept secret.
Commenting on Mitchell's behaviour, one viewer said: 'It's obvious Mitchell is craving attention', while another agreed: 'There is no room for the Diva attitude when learning. Mitchell will regret his actions!'
Another tweeted: 'Educating Greater Manchester Mitchell isn't disruptive, so why keep rewarding his unacceptable behaviour with attention. Basic to teaching.'
Following his challenging behaviour, teacher Mr Chambers gave the student a strong warning, telling him he had to grow up.
'If Mitchell doesn't grow up, he's going to have some big problems', the teacher declared before telling Mitchell: 'I think you need to grow up a bit. At the moment, you've got no chance because you don't care.'
Mr Chambers' message helped Mitchell change the way he acted in school, and he went on to pass seven GCSEs and study media make up at college.