Elton John's sons get just £3 pocket money for chores (and they aren't allowed to spend it all!)
What do you think of these pocket money rules?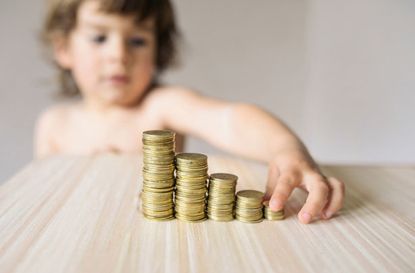 GoodTo newsletter
Sign up to the GoodTo Newsletter. You can unsubscribe at any time. For more information about how to do this, and how we hold your data, please see our privacy policy
Thank you for signing up to . You will receive a verification email shortly.
There was a problem. Please refresh the page and try again.
It turns out that even if your dad's pop royalty, you've still got to earn your keep.
We're talking about Elton John and David Furnish's sons Zachary and Elijah, who, according to their father, certainly aren't lavished with stacks of cash. In fact, Elton says the boys get just £3 pocket money each a week. This sum is around half the national UK average - a survey by On Average estimates most children who receive money from their parents get between £ 5.75 and £6.50 in the UK. And the rather brilliant pocket money twist Elton revealed is one we actually might try!
Despite their obviously lavish lifestyle Elton is opinionated about his sons not becoming spoiled
Speaking to The Guardian in a recent interview, Elton opened up about raising children with the pressure of celebrity status, and far from what we imagined, it's not all glitz and glam, with the boys being treated to a trip to Pizza Hut or the park just like any other family.
This pair of celeb dads aren't going to let their little ones get away with being spoilt, despite Elton admitting that 'they are spoilt in the way they live and how they're living, but they're not spoilt when it comes to the rules they have to live by.'
This may come as a bit of a shock to those of you who remember Elton's famous words of the mid '90s, when he simply said,'I like spending my money', after it was revealed that he'd splashed £293,000 on flowers in just under two years!
The two fathers have a rather strict pocket money scheme going on in their house
With those extravagant years firmly behind him, Elton's two boys, who are five and three, are given pocket money, but with a bit of a twist.
'They get £3 pocket money, but £1 is for charity, £1 is for saving and £1 is for spending, they get three coins and put them in separate jars. And they have to work for it – help in the kitchen, help in the garden,' he says.
He added, 'They've got to learn the value of doing something and earning something for themselves.' Having previously told the BBC that 'a silver spoon is no good to anybody', it looks like Elton is keen to teach the value of money to his two young sons. Having been raised on a council estate himself and working incredibly hard for his fortune, we admire Elton's determination to treat his sons as 'normally' as possible.
It looks like Elton's boys aren't the only kids he could be teaching about money. The singer is god father to a whole host of children including Cruz Beckham
Despite our admiration, it appears that Elton's approach to teaching his offspring money management isn't as common as you might have thought, with the tradition of pocket money declining in the UK. The Telegraph reported earlier last month that the number of children being given pocket money, and the amount they were allowed, has fallen sharply over the past four years, according to a Childwise study.
The newspaper commented that the survey 'suggests that, while parents might be giving young children more money overall, they are granting them less independence and less opportunity to experience managing their income.'
What do you think? Should children be taught the value and management of money from a young age or is that a parent's job? Let us know in the comments below!
Rosie is an experienced food and drinks journalist who has spent over a decade writing about restaurants, cookery, and foodie products. Previously Content Editor at Goodto.com and Digital Food Editor on Woman&Home, Rosie is well used to covering everything from food news through to taste tests. Now, as well as heading up the team at SquareMeal - the UK's leading guide to restaurants and bars - she also runs a wedding floristry business in Scotland called Lavender and Rose.