'What an irresponsible message' Emma McVey sparks debate with post promoting weight loss shakes ten days after giving birth
'I'm back to my original weight and shape'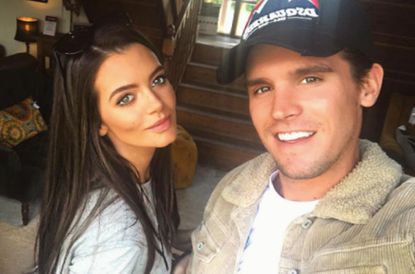 Emma McVey has sparked debate on social media with a post promoting weight loss, ten days after giving birth (opens in new tab).
The new mum took to Instagram to reveal that she's back to her pre-baby body weight and shape, after little more than a week of giving birth to her baby boy Chester.
Alongside a picture of her showing her slim figure and holding her baby, Gaz Beadle's girlfriend revealed to fans that she used fat loss shakes to shed the pounds after becoming a mum, and claimed they were safe to use while breastfeeding.
She wrote: 'I'm back to my original weight and shape in 10 days! I swapped from my energy and maintenance shakes to the fat loss ones the past 7 days so a huge thank you to herbalife...
'This is one of the main reasons me and @gazgshore have decided to team up with them (don't want him having a dad bod) 😜 I gained a total of 28lbs which was a good amount of weight for me and Chester who was 6lbs2.
In the post, the mum-of-one also explained that she ate a balanced diet, consisting of three meals a day, while doing the weight loss programme.
However, Emma's post sparked controversy among her fans, with some branding her message 'irresponsible', and accusing her of putting more pressure on new mums.
One wrote: 'Not a realistic post to be honest, nor is this a positive thing to post for young idealist women who follow you. Sorry I never post negative responses but this has annoyed me.'
A second also said: 'Super unrealistic and unhealthy to even be thinking of loosing weight just after giving birth. Way to go for putting even more pressure on mums out there.'
A third commented: 'What an irresponsible message to be sending to young vulnerable people who follow you?! This sort of message should be banned from Instagram!'
Despite the backlash, others commented to defend Emma, or simply to gush about how she looks 'fantastic'.
One said: 'You've looked amazing throughout your whole pregnancy and you did what you felt was best for yourself and bub. Both Emma and Chester are healthy so she's definitely doing something right.'
A second added: 'I don't see her putting pressure on anyone. People have been asking about the shakes. Also she was not just having shakes it was in conjunction with 3 healthy meals a day..'
'You look fantastic, you are a wonderful mummy. Don't pay an attention to the idiots. ❤️', a third also said.
What do you think? Do posts like these put more pressures on new mums? Let us know in the comments!