Experts warn parents certain types of shoes could be DAMAGING their children's feet
Do you let your little ones wear shoes that are style over substance?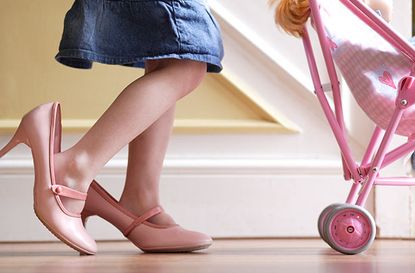 A new study has revealed shocking figures showing that more than a quarter of children in the UK are suffering with damage to their feet due to 'inappropriate' footwear.
The study found that many youngsters are being allowed to wear shoes with insufficient support such as ballet pumps, high heels and flip flops.
Each of these types of shoe hold a different problem, for example, high heels, which are typically for a much older wearer, shorten the calf and put pressure on the ball of the feet.
Whereas ballet pumps are too flat and without any shock resistance can cause damage in joints further up the leg.
The study was carried out by the College of Podiatry and surveyed 2,000 parents with questions around what they let their children wear on their feet.
The study revealed that 55% of children have suffered injuries by wearing shoes which are either too small or unsuitable for young feet.
Dr Stewart Morrison, of the College of Podiatry and Brighton University, spoke to The Daily Mail about the study, explaining that due to their young age children are more 'susceptible to damage'.
'Children's feet are still growing and are more susceptible to damage than adult feet', he said.
Dr Stewart advised parents to think about the width and length of their children's shoes to ensue that they fit properly.
'It's really vital to ensure they are wearing shoes which fit them well - in width as well as length - and that are suitable for age, as well as the task they are wearing them for.
'Wearing the wrong size or type of shoe in the short-term causes blisters, rubbing, bruising and callouses, but in the long term it could affect foot development and result in musculoskeletal issues in the future.'
Some people might wonder why parents would give their children shoes that don't seem to fit properly, but the survey also showed that pressure to be fashionable can be a cause.
22% of parents felt pressured to put their daughters in fashionable shoes, something which experts have said is not advisable.
Dr Stewart continued to explain why it can be hard to tell if your child's feet are suffering from bad footwear choices, 'Children often won't say if their shoes are too tight or are hurting, which is why it is important that we raise more attention about children's foot health and encourage parents to check their children's feet regularly.
'We recommend parents have their children's feet measured and their everyday shoes fitted by a professional.'
The College of Podiatry has released recommendations to ensure that your child's footwear is supporting them properly:
All children's footwear should be measured for length and width, and fitted by an appropriately trained shoe fitter


The toe area shape should be foot shaped and not pointed, or excessively tapered


It is important that the shoe is kept on the foot by laces, Velcro or 'T' bar, which acts like a seatbelt in a car, holding the shoe onto the foot


Leather is the best material for kids' shoes as it is flexible and soft, but hard wearing


The shoe should offer sufficient support for the foot. The shoe should not bend or crumple excessively. Plimsolls and ballet-pump shoes are examples that bend too easily

Do you struggle to encourage your kids to wear sensible shoes? Let us know in the comments below
Trusted, informative, and empathetic – GoodTo is the ultimate online destination for mums. Established in 2007, our 15-year-strong archive of content includes more than 18,000 articles, 1,500 how-to videos, and 7,000 recipes.