The best and worst FaceSwaps on the Internet
We all know how FaceSwap can go horribly wrong...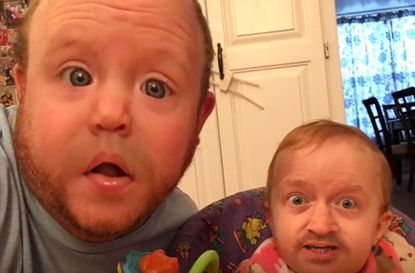 Using apps to swap faces between friends and family usually has hilarious results... but not this time!
Faceswapping apps allow users to edit photos to swap faces with other people and we all know how horribly wrong they can go. And while most times it cracks you up to see your husband's face on your body and vice-versa, we're not sure we should be doing it when the results can be as horrifying as these...
Undoubtedly Cheryl and Eva Longoria are two of the world's most beautiful women, but we never noticed before how alike they really look. That was until the friends decided to Faceswap at the Global Gift Gala in Cannes this week, where Cheryl was being awarded a Philanthropist Award by her pal Eva. The Desperate Housewives' star says; 'Amazing, I look so pretty,' while Cheryl continues to smile and say nothing, then admits she thought it was on photo setting not video... oops.
The Royal Mail released a special family portrait with four generations of the royal family to mark the Queen's 90th birthday. In the original picture, taken by Ranald Mackechnie, the Queen and her great-grandson Prince George look every inch the picture-perfect regal family (to be honest George just looks adorable), but wait till you see this faceswap. Isn't it terrifying how similar they look? Those are some strong genes...
Ant and Dec might just be our favourite TV duo ever, but after this horrifying image posted to the offical Saturday Night Takeaway Instagram account, we may have to have a re-think! We can't quite work out why this is so wrong, but wrong it certainly is...
Fan of the X-Files? Then you may want to know what happens when Mulder and Scully swap their very serious faces. It works surprisingly well...
Image: Imgur/DarmokatTanagra
Well, we've another one that's actually more funny than scary. Two friends decided to do a faceswap between one's face and the other one's... boob. Of course, they draw a face on it first, or else the clearly labelled FACEswap app wouldn't have worked.
The real face eventually swaps with the drawn face on the other's boob, and the two just crack up - as will you. Is this the silliest faceswap yet?!
Aside from face and other body parts swaps, there's been some scary results from other faceswaps around the Internet. Even Steph and Dom from Googlebox decided to experiment with a picture of themselves...
The couple shared the disturbing image on their Twitter account, saying it's 'the stuff of nightmares'. Sadly, we can't disagree. Please never do that again.
American television host Jimmy Kimmel has also been playing with amusing face-swapping app, in a video with his usually cute and beautiful one-year-old daughter. However, it's fair to say her blonde locks aren't enough to distract us from all the beard in the poor girl's face...
Posting the haunting video on Instagram, the dad wrote: 'My daughter Jane looks SO much like me.' We don't think she'll take that as a compliment...
Another dad thought he would take a funny picture with his daughter, but the Faceswap app definitely had other ideas. The nasty surprise came when the technology detected the oven in the background as a face and swapped it with the toddler - leaving dad out of the picture completely! Comments on Imgur have been quick to point out that perhaps he isn't the baby's real father afterall... creepy indeed.
Image:Imgur
This dad took face-swapping a little further than most - instead of the usual creepy photo that's enough to give us nightmares for days on end, this time he decided to make a video. Needless to say, the results are even more traumatising...
http://www.youtube.com/watch?v=NjA9tBDu9Y8
He starts the mini face-swapping film with his daughter, and then tries it with his wife. And what was already pretty weird got worse when he did it with his innocent baby boy... Too far. Internet, please STOP.
However, they're not the only family that have been getting their faces all mixed up - just recently EastEnders' Peggy, Grant and Phil were also victims of the face-swapping trend, and look at the Mitchell family's new look...
Creepy, right? Although, with all they're going through at the moment, what with Peggy coming back only to reveal she's dying and Phill collapsing, maybe a nice face-swapping laugh is exactly what the Mitchells need!
But as odd as that family portrait may look, there's weirder ones. Recently a mother decided it was a fun idea to use the app and swap her daughter's face with a doll and look how it went...
Image: Imgur
We'll give you a moment to recover.
Her sister shared the photo on the image sharing website Imgur, and many people commented how creepy the photo looked by saying things like 'This is going places. Right into my nightmares' and 'Nightmare Fuel'.
Another dad also decided to swap his face with his daughter's and got THIS terrifying result...
Image: Imgur
Nevermind the dad with his tiny baby daughter on his nose... The poor baby looks like a little demon!
Even though it's clear she's a beautiful baby - see dad's nose for evidence - Faceswap turned her into something very capable of giving you a heart attack in a horror film like the Curse of Chucky. The baby's eyes turned into dad's nostrils and his beard gave her a very weird mouth...
The Internet was quick to react and comments flooded in, with users remarking on how sinister the photo looks.
'Well that's mildly terrifying.', one user said of the picture, while another commented 'This will haunt me forever.'
One even joked: 'KNEEL BEFORE THE ELDRIDGE HORROR OF THE OLD BABY'.
It's not the first time parents have regretted swapping faces with their offspring. Just look at this disturbing picture of baby-turned-dad holding tiny-baby-dad in the shower...
Image: Imgur
And this man who was rightly confused after swapping his wife's face with his son's.
Image: Imgur
But it also looks like it's not the first time the Internet has seen tiny nose face. Apparently it also happens when you swap faces with other grown-ups.
Image: Imgur
And of course celebrities are very easy targets...
Image: Imgur
Anyway, take care when face swapping, you never know what you might get. As for the baby girl, we sincerely hope this one doesn't make the family photo album...
Trusted, informative, and empathetic – GoodTo is the ultimate online destination for mums. Established in 2007, our 15-year-strong archive of content includes more than 18,000 articles, 1,500 how-to videos, and 7,000 recipes.